To:

Graham Quirk - Lord Mayor of Brisbane
Enough is Enough: Brisbane's bus drivers deserve protection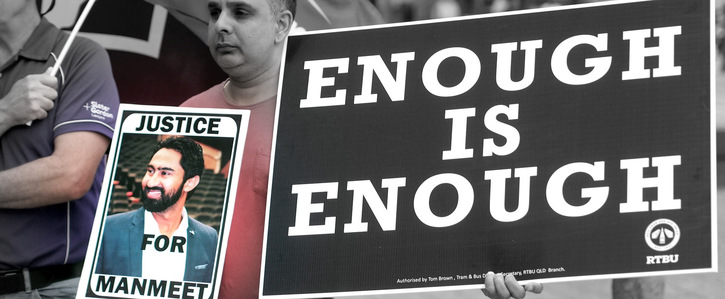 Bus drivers deserve protection. Too many are being attacked, maimed and even killed just doing their jobs.
Bus drivers work long hours at any time of the day or night ensuring all of us can get to where we need to go. But they need to be protected and have the right to go home to their families at the end of their shift.
— Bus Drivers deserve safety capsules;
— The development of a industry required bus model that incorporates a separate driver cabin must happen;
— An immediate increase in the number of authorised transit officers as a primary response to enhance security on buses.
— Expand the rail police squad onto buses and trams; and
— Complete of the review into driver safety and immediately implement of its recommendations.
Why is this important?
Another week and another assault on one of our bus drivers.
Following the tragic death of one bus driver in October, attacks on bus drivers have not stopped.
29-year-old bus driver Manmeet Alisher was killed when he was set alight by a 48-year-old man in an unprovoked attack: https://goo.gl/g4ADeH
A bus driver, just doing his job, supporting the community, had his life taken from him in what is a senseless and needless act. His parents have lost a son, and siblings lost a brother.
Right now, police are searching for a male cyclist after a 60-year-old bus driver was repeatedly punched in the face just for doing their job: https://goo.gl/dSIqlP
These aren't isolated incidents. Bus drivers are being assaulted every week.
Enough is enough. It has to stop.