To:

Victorian Premier Daniel Andrews
Car Protests are Safe, Detention Centres are Not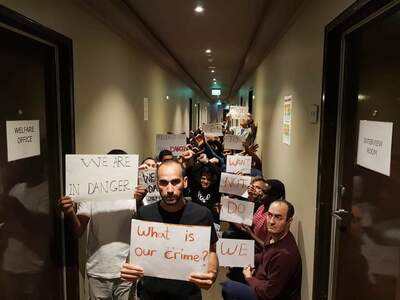 We call on premier Daniel Andrews to
1) Drop the 26 fines for refugee activists, and the charge against Chris Breen for the Mantra refugee protest
2) Publicly join calls for the release of all refugees from detention, and provide safe accommodation for refugees in Victoria
3) Use public health powers to release refugees from detention in Victoria
4) Allow safe protest in the form of car and bicycle cavalcades
Why is this important?
Car protests are safe, detention centres are not
No authoritarian shutdown of protest
RAC activist Chris Breen was arrested in his home before the Good Friday Mantra protest against refugee detention. Police issued 26 fines to protesters who were safely demonstrating against the ongoing detention of refugees in the Mantra and across Australia.
The hypocrisy is staggering. Our protest was completely safe, with only two people per car (from the same household) and no one getting out of their cars. Our protest was safer than going shopping, safer than travelling on public transport, safer than non essential work that continues, and safer by an order of magnitude than being stuck in a sealed corridor in the Mantra.
People are up to 4 in a room detained in hotels. At Kangaroo Point in Brisbane, refugees are a maximum of 65cm apart in meal queues. Serco employees do not practise physical distancing and come and go. It is only a matter of time before coronavirus devastates detention centres.
Over 1200 doctors have signed a letter calling for the release of refugees from detention. ALP federal MPs Ged Kearney and Peter Khalil have called for the release of refugees in the Mantra, and income support for those in the community.
We call on Premier Daniel Andrews to use the health powers to release refugees, to revoke the fines and charges, and to allow safe public protest.