To:

President Park Geun-hye, New Frontier Party
South Korea: end the attack on workers now!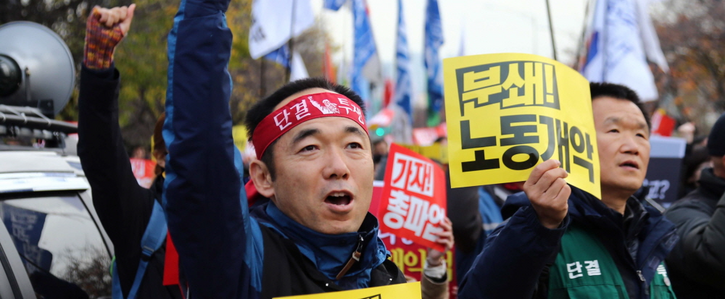 Workers in Korea are involved in a major battle against repressive government policies which would allow employers to sack them easily and pay them less. Rail and public service workers are particularly targeted by these rules. Truck drivers are also fighting for rights set down by the UN labour body, the International Labour Organization, including the right to organise and to be paid safe rates, so they can maintain their vehicles and safely carry out their work.
Sign this petition to call on the United Nations to investigate anti-worker laws in South Korea and to demand that South Korea's President Park Geun-hye and her ruling New Frontier Party:
• Free all jailed trade union activists
• Respect the right to freedom of association, including the right to peaceful assembly and to strike;
• Ratify the United Nation labour body's core labour conventions;
• Recognise the rights of truck drivers to unionise; and,
• Withdraw its regressive labour reforms
Why is this important?
Workers have been beaten and attacked by police during peaceful demonstrations, leaving one man dead. Over 20 union activists have been jailed, with raids on transport unions and the teachers' union deregistered.
Yet workers and their unions remain steadfast in their fight for justice and are currently holding strikes.