To:

Mardi Gras board
No ScoMo in Mardi Gras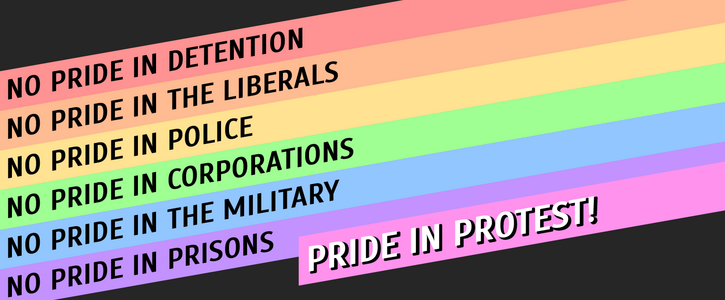 We call upon the Mardi Gras to not invite Prime Minister Scott Morrison (a No campaigner), and to not allow the Liberal party float to march in our parade.
We further call upon Mardi Gras to remove the police and similar institutions from the parade, and review its corporate relationships with groups like Qantas and ANZ. Qantas is directly complicit in the deportation of refugees, many of whom are queer.
Why is this important?
We may have won marriage equality, but the fight is not over.
The government has led brutal attacks on trans and non-binary people with the cuts to Safe Schools; queer people seeking refuge in Australia after fleeing from countries where they face persecution for being queer, are locked in offshore torture camps indefinitely by the Australian government, in countries where it is also illegal to be queer and where queer-bashing is common; the Liberals have set up a ridiculous inquiry into 'religious freedom' to discriminate against queer people; queer people can still be fired for being queer; meanwhile queer people still experience high rates of depression, homelessness, danger from incarceration, and suicide.
We need to make it clear that none of this is acceptable, and we will not allow the Liberal party to promote themselves in our parade in the lead up to the election while this continues. We also in particular stand in solidarity with Aboriginal and Torres Strait Islander peoples, trans people, and others who continue to frequently be assaulted by police, and this cannot be allowed. Across the world Pride parades are removing the police in recognition of the cruel role they continue to play in society - Aboriginal people in Australia are one of the most incarcerated populations on the planet and many have died in police custody. This is no coincidence. We cannot ignore this.
We also do not think it is ethical for us to be connected to corporations which undermine vulnerable parts of our community, such as asylum seekers. Many seek to come to Australia as they flee homophobic execution, and they are either imprisoned in offshore detention where homosexuality is illegal or sent back to the places that abuse them. In the UK their Pride march called upon the airlines to cease deportation, and managed to win a commitment to ending forced deportations. We can too!