To:

Coles and Woolworths
Australia wants Fair Food!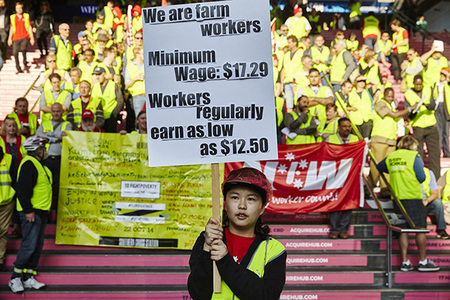 1. Sign onto a Fair Food Agreement with the union, which requires your suppliers to provide a living wage & decent industry standards for fresh food workers
2. Regulate labour hire contractors to remove dodgy contractors and provide a list of ethically approved labour hire providers for farmers
3. Reward Fair Food Farmers who respect workers rights, and pay them a fair price for their produce
Why is this important?
Workers on farms across Australia are currently forced to work long hours, often 14 or 16 hours and even up to 22 hours a day. Many are paid cash payments; as low as $4 and commonly $12 or $14 an hour, while the minimum wage is $21.61. These workers pick and pack the fresh fruit and vegetables that we buy at the supermarket.
https://www.youtube.com/watch?v=6NjOjNAShnQ
Many producers use dodgy labour hire contractors to try and cut costs. These labour hire contractors routinely steal workers wages, provide them with substandard accommodation for exorbitant fees, and seek sexual and monetary favours for visas or preferential treatment.
Workers who speak up are ignored, silenced or have their employment terminated. All this is happening while the Big Supermarkets engage in 'price wars' during the ad breaks we watch on TV.
As a duopoly, Coles and Woolworths have incredible buying power. Competition among producers to supply the supermarkets is immense. Coles and Woolworths exploit their market position to demand that producers supply products at lower and lower cost.
Coles and Woolworths claim their Ethical Sourcing Code of Conduct ensures that fresh food products are ethically produced. The reality facing workers on these farms proves that this is not true. When producers are confronted with the choice between complying with codes or losing a supply contract with a Big Supermarket, they choose to cut corners.
Even after extreme exploitation and slave-like conditions were exposed on Four Corners in May 2015, workers are still fighting for justice on many farms around Australia. Without workers being able to actively participate in their union and speak up about conditions on farms, codes of conduct will never work.
Workers who produce our fresh food are putting out a call to clean up the supply chain, a call for a Fair Food Agreement to immediately outline standard conditions and rights that workers can collectively enact.