To:

Coles Supermarkets
Coles Slashes it's In-Store Meat Teams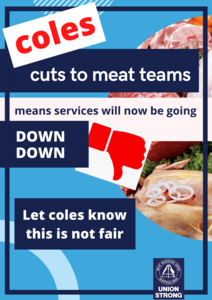 After months of uncertainty Coles Supermarkets have announced it will make all it's in-store Butchers and Meat Packers redundant from 11 October 2021.
In a move that flies in the face of sponsoring the likes of Master Chef and promoting a fresh product, Coles have decided to use pre-packaged product in all stores. Product knowledge will disappear and workers who had provided decades of loyal service will be thrown on the scrap heap.
Nationally there are more than 1570 Meat Team Members that will be offered a redundancy or alternative work for far less than their current salaries. These workers kept meat on the tables throughout the pandemic and this is how they are treated. This is a move that might save money and put profits in shareholder's pockets but do very little for consistency of product, quality and customer service that Coles promotes in its advertising.
Why is this important?
Coles in-store Butchers have completed an apprenticeship and have extensive product knowledge. Butchers and Meat Packers inform customers on best cuts of meat for a particular receipt and how to cook, prepare and handle that meat. All this will be gone as Coles will now have it's product processed at a third-party facility and will be brought to the store either gas flushed or cryovaced.
In-store butchers and Meat Packers will be replaced with a store service rep that may not have ever worked with meat before or for that matter may not have ever cooked a leg of lamb before. When the public seems to want to know more about their food, and prepare their own food, Coles have decided to offer less. This is a shameful move that shows Coles cares more about profits than people.
The only thing going DOWN DOWN at Coles will be the service….
Sign the petition and send Coles a clear message that this is unacceptable. At the height of this pandemic, these workers were putting food on our tables. What Coles is doing is wrong….
Help these workers get a better deal.
Authorised by
Matthew Journeax
Acting Federal Secretary AMIEU
39 Lytton Road
East Brisbane QLD 4169