To:

Chairmen of Arpico, Cargills, Keells, and Laugfs Superstores
Demanding Bonus for Sinhala and Tamil New Year -Superstore Workers in Sri Lanka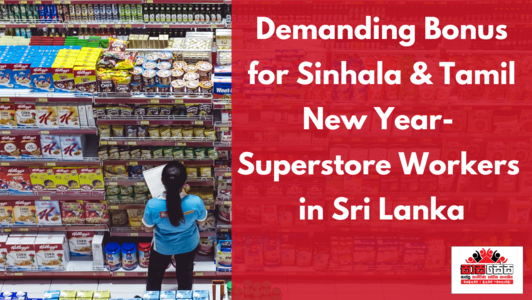 Petition in Sinhala & Tamil: http://bit.ly/3GYM2u2
---
We are the employees working for the supermarkets/superstores and shopping complexes in Sri Lanka.
We call upon the Chairmen and CEOs of the publicly listed companies who manage profitable retail businesses through the chain of supermarkets and superstores to secure board approvals in advance to reward our extraordinary services by granting two monthly bonuses to all categories of employees for the year 2022. And make the payments by April 2023, for employees to celebrate Sinhala and Tamil New Year.
We trust our appeal will receive your favourable attention. Your timely, compassionate consideration to help us in this hour of need will energize and motivate us to serve all our customers cheerfully, bringing more business to the companies where thousands of us are working tirelessly to serve the customers during the festive season.
All categories of Employees working for
1. Arpico Superstores –
2. Cargills Food City
3. Keells Supermarket
4. Laugfs Supermarket
Why is this important?
The COVID-19 pandemic-related social distancing and healthcare necessities became a challenge in Sri Lanka. We have been subject to numerous hardships and health-related risks in working on the frontlines supporting the community to continue the ordinary life and providing them with their day-to-day needs.
Our hard labour, commitment and loyal services to the supermarkets helped the businesses to continue uninterruptedly retaining customers and recording remarkable turnover for the companies.
In the current economic situation and the unrestrained price increases in the necessities, it has become challenging for us to meet our daily life, and our families, too, are struggling to cope with the hardships.
Petition addressed to
• Dr. Sena Yaddehige – Group Chairman, Richard Pieris Group of Companies
• Mr. V Ranjit Page – Deputy Chairman and CEO of Cargills Ceylon Plc
• Mr. Krishan Balendra – Chairman John Kells Holdings
• Mr. W K H Wegapitiya – Chairman Laugf Holdings
Petition in Sinhala & Tamil: http://bit.ly/3GYM2u2