To:

Minister Ben Carroll
500 DAYS TO ENSURE PUBLIC TRANSPORT IS ACCESSIBLE FOR ALL: THE COUNTDOWN BEGINS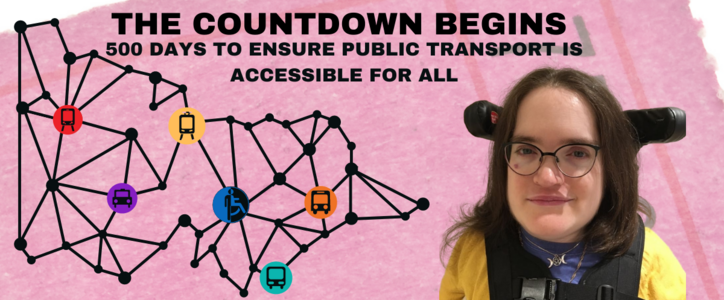 Our Public Transport system should be accessible to all Victorians but it's failing people with disabilities.
Why is this important?
My life would be very different if I could hop on a bus or a train or a tram whenever I wanted. Right now going anywhere takes a lot of planning and is not affordable for me, because Public Transport is inaccessible.
For over forty years people with disabilities have been campaigning for the same access to transport as everyone else, to have the same access to jobs, work and community, but for many of us lockdown life is normal life.
Previous governments have not kept their promises. The Disability Discrimination Act (1992) requires that all infrastructure is fully compliant with the Standards for Accessible Public Transport 2002 (DSAPT) by 31 December 2022.
That's 500 days away. And we are woefully behind. Only 15% of Melbourne's Tram Network is accessible, and buses, trains and taxis across regional Victoria fail daily to meet the needs of residents with disabilities.
THE GOOD NEWS IS THAT THE ANDREWS GOVERNMENT CAN DEAL WITH THE SOLUTION ONCE AND FOR ALL
We want to see a commitment from the state government to deliver universal access in the next term of government. This would contribute to our economic recovery and deliver a more comfortable, efficient Public Transport system for all Victorians. It would also help Victoria meet its commitment to halve emissions by 2030.
And it's not just the disability community that will benefit from universal access. Parents with prams, older Victorians and people wishing to avoid increasing traffic congestion will all reap the rewards of these upgrades.
TAKE ACTION: SEND AN EMAIL TO MINISTER CARROLL HERE
Support our community of disability activists by reaching out to the Minister for Public Transport, Ben Carroll, and call on him and the Victorian government to take action for universally accessible Public Transport.
Jess and the DRC Campaigns Team