To:

ISS & Launceston Airport
Reinstate security officer Caleb at Launceston Airport!
Thank you for your support. The Proceedings have been resolved to Caleb's satisfaction.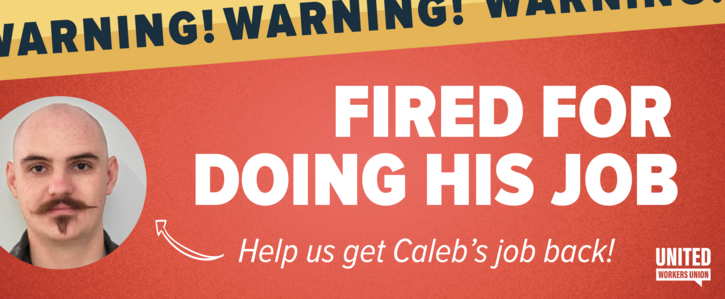 In January 2023, UWU member Caleb was sacked from his security job at Launceston Airport.
As a security officer working kerbside, enforcing traffic rules and issuing parking tickets is just part of the job.
But when Launceston Airport received complaints from angry drivers who were unhappy about Caleb issuing them a parking ticket or even just being told their vehicle was in the wrong place, Launceston Airport had Caleb stood down and permanently removed from the Airport. All without any investigation!
Caleb's employer, security contractor ISS, then fired him after a rushed, flawed, pre-determined investigation. In the eyes of ISS, "the customer is always right" - but are they?
Caleb had worked at Launceston Airport since 2021, using the little money he earned to support himself and his mother who has a disability.
Caleb says enforcing traffic rules is a tough job and that dealing with hostile members is not uncommon.
"No one likes getting a ticket. Every time I face an agitated passenger I always have to consider the possibility they might attack me. I have been assaulted, abused and had my life threatened, but ISS offered no support."
In fact, in June 2022, Caleb was physically assaulted at work and yet he received no counselling or de-escalation training from ISS or Launceston Airport to help him deal with similar situations in future.
Now Caleb has been blindsided by his termination, not even getting a chance to respond to the com­plaints and defend himself before the decision was made to remove him from Launceston Airport.
"I thought I was good at my job. I was proud to be earning an honest living, and I liked the people I worked with. It's a real blow to my self-esteem. I wasn't given an opportunity to fix anything. Just fired."
Why is this important?
Caleb's story is a classic case of a client and employer using the labour-hire relationship to trash a worker's rights.
Caleb has now filed an unfair dismissal application in the Fair Work Commission and is being assisted by his union.