To:

The Federal and NSW State Ministers for Education, TEQSA, and Vice-Chancellor of Macquarie University
Save Student Wellbeing at Macquarie University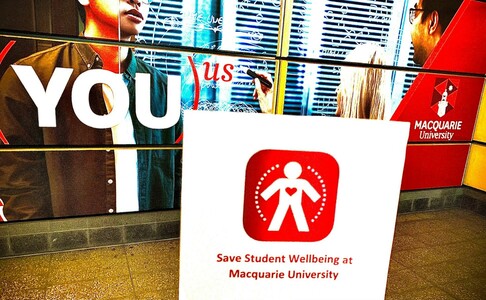 Macquarie University staff, students, alumni, and community supporters call on:
• The MINISTERS for Education (Federal and NSW) to initiate an inquiry into the dismantling of Student Wellbeing services at Macquarie University.
• The TERTIARY EDUCATION QUALITY AND STANDARDS AGENCY (TEQSA) to audit the resourcing of Student Wellbeing services at Macquarie University.
• The VICE-CHANCELLOR, Professor Bruce Dowton, to reverse all staffing cuts to Student Wellbeing services at Macquarie University, and properly resource staff who are on the front line of supporting student mental health.
Why is this important?
1. MAJOR STUDENT WELLBEING CUTS AT MACQUARIE
Macquarie University management are moving to further cut Student Wellbeing services at Macquarie University (with numerous positions being axed and/or downgraded - roles such as Psychologists, Disability Liaison Officers, Accessibility Officers, Student Wellbeing Advisors, Student Advocates, Inappropriate / Unwanted Behaviour Officer, and administrative staff).
These latest cuts are on top of extensive job losses to Student Wellbeing services which management implemented in late 2020, with nine positions cut, and numerous essential vacant positions unfilled by the University.
2. THREAT TO COMPLIANCE
Student Wellbeing services at Macquarie University are woefully understaffed, and the lack of resources threatens compliance with the Disability Standards for Education and Higher Education Threshold Standards.
Proposed resourcing is well below established standards according to the Counselling Standards published by ANZSSA.
3. TWO PERMANENT PSYCHOLOGISTS FOR 45,000 STUDENTS
Management is seeking to resource only two (2) permanent Psychologists for a University that has approximately 45,000 domestic and international students, this is severely inadequate.
4. CUTS TO SEXUAL ASSAULT SUPPORT
Resources are being cut for the vital 'Respect. Now. Always.' service which is designed to prevent and respond to sexual assault matters, discrimination, harassment and bullying.
5. STUDENT NEEDS ARE INCREASING
The number of students self-reporting a health condition has increased year on year since 2019, and staff are already struggling to keep up with student demand for wellbeing supports.
6. LOWEST IN SECTOR
While other Universities are investing in student wellbeing, Macquarie University's cuts will see students receiving some of the lowest levels of support in the sector.
7. STAFF AND STUDENTS OPPOSE THESE CHANGES
These cuts highlight a critical need to strengthen the Enterprise Agreement provisions for professional staff at Macquarie University. The University is proceeding with harmful restructuring despite widespread and extensive feedback from staff and students opposing the attack on Student Wellbeing.
For More Information:
* Dec 2021 - Staffing cuts are out of touch with the "Australian Disability Strategy 2021-2031" committed to by the Prime-Minister and Premier of NSW on 3 December 2021, including Policy Priority 3 "Improve pathways and accessibility to further education and training for people with disability" - https://www.disabilitygateway.gov.au/document/3106
* 15 Nov 2021 - "NTEU Response to PST Change Proposals: Student Services and Faculty Professional Services" provides a detailed overview of the proposed cuts to staffing at Macquarie University (including for Student Wellbeing).
https://www.nteu.org.au/library/download/id/11356
* Nov 2021 – University of Melbourne paper: "Alleviating the human cost of COVID-19 in Australian universities" highlights the need "to increasingly focus on wellbeing, support, inclusion and trust for both staff and students; this will be a key ingredient to a vibrant and healthy higher education system." https://melbourne-cshe.unimelb.edu.au/__data/assets/pdf_file/0005/3962831/human-cost-of-covid-in-aus-unis.pdf
How it will be delivered
This petition will be delivered by post to the Ministers for Education (Federal / NSW), TEQSA, and the Vice-Chancellor of Macquarie University.