To:

Flinders University
Support for Flinders University Students Must Continue!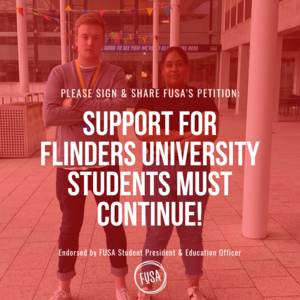 Coronavirus isn't over, yet Flinders University management has been silent on whether or not many of the incredibly popular academic supports that FUSA successfully campaigned for in Semester 1 will be continued this semester. As such we're calling on Flinders University to;
1) Continue the Opt-In Non-Graded Pass assessment structure that allowed students grade point averages to not be negatively impacted
2) Continue the changes made to supplementary assessment which allowed all students to apply for a supplementary assessment (not just an exam), even if they achieved a final topic grade of less than 45%
3) Introduce an Opt-In Withdraw No Fail assessment structure (as seen at the University of Adelaide), which shows the difficulty of passing topics during these learning conditions while not negatively impacting a students grade point averages
4) Meaningfully address the impacts of no longer having a physical textbook retailer on campus and adjust learning requirements accordingly (Flinders University must ensure that student learning is not negatively impacted by limited capacity to textbooks and other learning materials without causing additional stress on teaching staff).
Why is this important?
The Flinders University Student Association (FUSA), is once again calling on Flinders University to provide additional academic support to students during this global health pandemic. While case numbers have decreased in South Australia, many students are still completing the majority of their learning online, have lost their jobs and income, and are about to see a severe reduction in government support.
In Semester 1, FUSA was instrumental in campaigning for the academic support changes that allowed many students to continue their studies here at Flinders. Changes such as the Opt-In Non-Graded Pass assessment structure would not have occurred without our campaign and the support of the student body.
We understand the stresses of being a student in the best of times, let alone during a global health pandemic, but we need your support to push for these changes. Flinders University can and must do more to support the student community during these unprecedented times. Please share this campaign with your classmates, club and association mates and anyone else you know in the student community to help us fight for your rights and welfare as students.