To:

Michaelia Cash
Abolish Mutual Obligations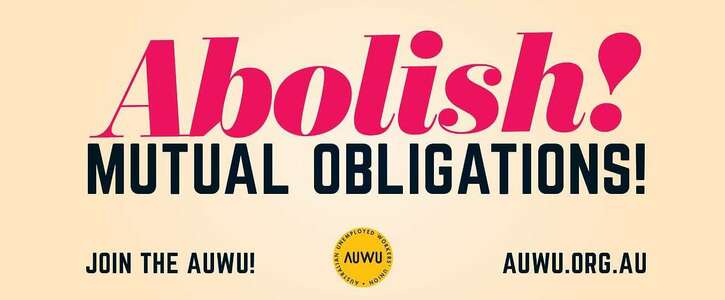 Minister Cash, until your department has overhauled the employment services system to make it fit for purpose, you must abolish mutual obligations immediately.
Why is this important?
A leaked department letter has revealed that the Morrison government is demanding (un)employment agencies be proactive about scheduling appointments with unemployed workers — despite mutual obligations being suspended until 1 June.
This has given the green light for agencies to ramp up their bullying tactics to force unemployed workers into pointless appointments and claim government commissions of up to $377 per initial appointment.
The government must stop handing over billions of dollars to private corporations to punish the unemployed.
The AUWU demands that this punitive system — already deemed not fit for purpose by both employers and the senate — be immediately scrapped and replaced with a genuine employment service, run by public servants, that actually helps unemployed workers through this crisis
More details: https://thenewdaily.com.au/news/national/2020/05/11/coronavirus-jobseeker-mutual-obligations-letter/
We know the privatised employment services system is grossly punitive.
The data shows payments were suspended 2.7m times in 12 months, but only 654,000 official "demerit points" were handed out.
This adds up to roughly 2 million unfair penalties being dished out to unemployed workers every year by privately owned agencies.
A 75% error is a national disgrace.
This unfair compliance regime has had a catastrophic impact on the lives of unemployed workers. It's a national disgrace that, even during the COVID-19 pandemic, this system continues to drive everyday Australians into poverty, homelessness, mental distress and even suicide.