To:

Senator Jenny McAllister, Assistant Minister For Climate Change & Energy
Climate-proof our homes: Energy efficiency standards for rentals NOW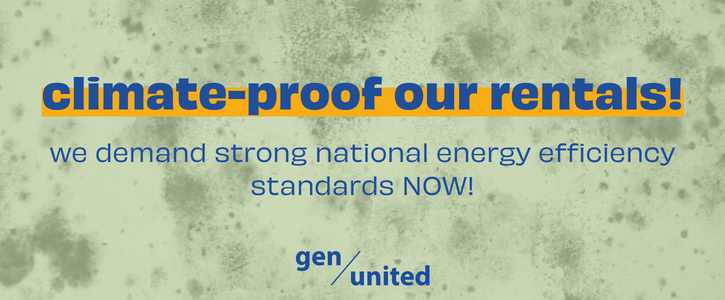 "Why are we paying so much for properties that aren't built to deal with the weather conditions of the country we live in?"
- NSW renter
It's a damn good question. Everyone deserves to live in safe, clean, comfortable housing. With more frequent extreme weather events like floods and record-breaking heat waves, and renters unable to keep our homes warm in typical Winter weather, it's clear that Australian houses, units and apartments simply aren't up to scratch.
We know that landlords and developers won't act unless they're forced to. Our federal government must step in and take the lead to ensure that renters everywhere can live in safe, climate-proof homes that save energy and reduce emissions. We need new national standards for rental properties, to ensure they are built to withstand extreme weather, and are energy efficient to help keep our power bills down.
We can improve the housing standards for renters, reduce carbon emissions and lower power bills at the same time - win, win, win.
Why is this important?
We spend winters shivering inside beanies, jumpers, blankets, uggs and wooly socks. In Summer we sleep with ice packs. And we pay through the nose for the privilege. More and more renters in Australia are experiencing rental stress - paying more than 40 or 50% of our incomes for homes that barely keep out the weather.
Rent is skyrocketing, as are our power bills. Yet renters can't reduce our bills by installing solar panels, insulation, more efficient hot water systems or by removing gas appliances from our homes.
We're forced to run power hungry space heaters to stay warm only to get hit with enormous power bills. More and more renters are forced to make a choice between staying warm and buying groceries.
It's more important than ever to improve the standards of rentals as power prices soar and home ownership is put further out of reach for young people.
Generation United is powered by the United Workers Union. We're a strong voice for young workers and we're coming together to tackle the big issues that affect us - at work, at home, in our community and in our environment.
Renters are speaking out, our governments must listen and act.
These are just some of the stories tenants have shared with us:
"The upstairs of our town house would reach over 43 degrees in summer so I slept with ice packs strapped to my body."
- Vic renter
"Our house is not at all insulated. The cold days are super cold and the hot days make the house stuffy for weeks"
- Aus renter
"I have been getting sick once or twice a month from how cold my room gets."
- Krishan, Vic renter
"Extremely cold temp in the house in winter and almost unliveable in the summer due to heat."
- WA renter
"Window has been stuck open ever since 2020, 8+ requests to close it with no outcome. My 3rd winter wfh now and I have to wear puffer 24/7!"
- Aus renter
"I have leaks in my ceiling I've been complaining about since 2018, which are only getting worse and still nothing done. Can't use my lounge room at all."
- NSW renter