To:

Garry King, Director of Daiso Australia
Daiso QV: Don't be cheap, pay us what we've earned!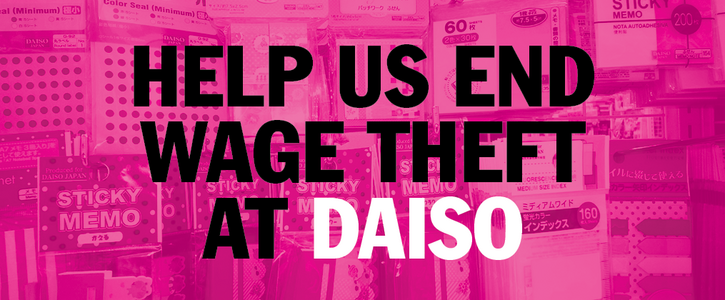 Between us, we worked at Daiso for years.
At first we were excited to work for a company whose products we love but working at Daiso quickly became overly demanding.
Daiso demanded that we arrive 15 minutes early to every shift, and during that time we were expected to complete training and were quizzed on the company newsletter which we had to read and memorise in our own time. We've never been paid for these early starts, but they were never optional and workers have been punished for being "late".
Workers are also expected to stay back after hours to tidy and close the store, without being paid for it. We often had to spend 45 minutes to an hour closing up.
Over the years, this has added up to hundreds of hours of unpaid work by Daiso workers. It's wage theft, and it's not good enough.
Daiso also demanded we give 24 hours notice if we weren't going to be able to work due to sickness. Sickness can strike at any time and providing 24 hours notice is not always realistic. Nevertheless, we would be punished if we did not give notice and it was often easier to turn up to work sick than suffer the consequences.
And we know all of this is still happening.
We demand Daiso QV current and former workers be back paid for all their unpaid hours of work and we also want a commitment that workers will be paid for ALL of the hours they work from now on.
We also demand that Daiso scrap their ridiculous 24 hour notice period for calling in sick.
Why is this important?
It happened to us, and we don't want other workers at Daiso QV to keep doing hours of unpaid work or being forced to turn up to work sick. That's why we're standing up for the current and future workers of Daiso QV.
Over the years we tried to raise issues with Daiso management but it's been brushed under the carpet. We've been left with no option but to start a petition and tell our stories.
Please send a message to Daiso QV that this is not on.