To:

NAB
Let's Win Gender Affirmation Leave @NAB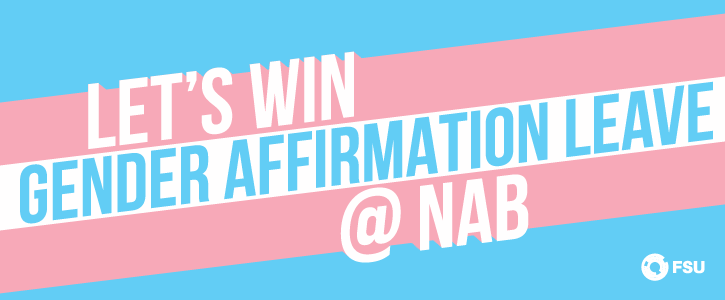 As union members, our goals are always for fair and inclusive workplaces. Our vision for equality means no worker should be worse off due to personal circumstances. This is why unions including the Finance Sector Union (FSU) have fought for and won things like parental leave, sick leave and pandemic leave. We know that multi-billion-dollar employers, like NAB, have a social responsibility to ensure none of their staff are left behind when impacted by significant life events.
FSU members are likely to begin negotiating their new NAB Enterprise Agreement in early 2022. The next enterprise agreement is an opportunity for NAB to do what is right and provide their employees with paid Gender Affirmation Leave.
FSU members secured four weeks paid (and 12 months unpaid) Gender affirmation leave in the recent CBA 2020 enterprise agreement. In their 2018 FSU-negotiated enterprise agreement, Westpac introduced a similar leave for their staff.
NAB say they are committed to diversity and inclusion of the LGBTQIA+ community through their NAB Pride workgroup and like to promote that they have been recognised three years running in the 'Australian LGBTQ Inclusion Awards' at a gold standard.
Whilst NAB promotes allyship, they don't currently provide any specific leave that is critical for the LGBTQIA+ community.
Union members would like to see NAB make a formal commitment by including gender affirmation leave in the next enterprise agreement.
We are asking union members and NAB employees to sign this petition in support of our campaign for Gender Affirmation Leave at NAB.
Why is this important?
Imagine a situation where you wake up and realise, you're living in a body that does not feel like your own, that the way you look and the way the world perceives you, does not align with who you are. Put simply, this is gender dysphoria. It is an everyday distress that affects most, though not all people who are transgender.

Easy and unhindered access to assistance for people experiencing gender dysphoria is extremely important. Gender dysphoria can be alleviated in a multitude of ways including (but not limited to) counselling, hormone therapy, surgery and updating legal paperwork.

We believe people who have to go on this journey should have access to an additional paid leave to assist with their affirmation simply and easily. As union members, whether this is a situation that affects us directly, indirectly, or something we have no experience of, we stand for equality. We ask you to stand with us.