To:

PM Malcolm Turnbull
Take Wage Theft Off The Menu. Make It A Criminal Offence
Sorcha spoke out against wage theft at Chin Chin and she WON! 👊👊👊
Chin Chin has agreed to pay the $9.5k she is owed. Speaking out works. Share your wage theft story at: www.ratemyboss.org.au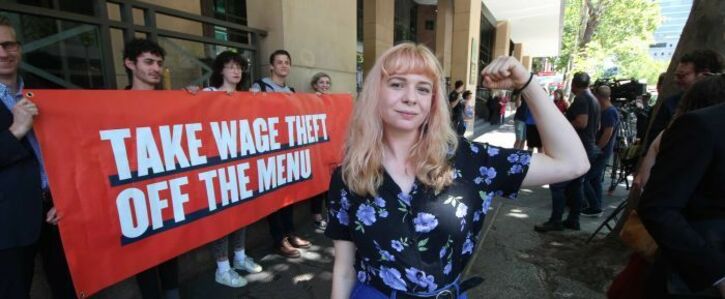 For almost a year I worked at Chin Chin. It's one of Melbourne's hottest restaurants. Chin Chin is famous for its no reservations policy, long queues down the street, fabulous food and outstanding service. It's not cheap, but it's worth it. What you don't know about Chin Chin is that the people who make it such a hot destination are forced to do 14-hour long days and work up to 20 hours a week for free. I worked through breaks, battled stress, exhaustion and was underpaid at least $9,500.
Meanwhile my boss, restaurant king Chris Lucas, was spending millions building his seventh restaurant, Chin Chin Sydney. This is wage theft. And it's happening to hospo workers everywhere: 77% of hospitality employers are stealing workers' pay, a new survey has revealed. We're not paid penalty rates. We're doing many hours of unpaid overtime and some of us get paid just $10 per hour.
We are fed up. We are saying enough. Stand with me and other hospo workers getting ripped off. SIGN the petition and share it with your friends.
Why is this important?
Stealing is wrong. Yet every year hundreds of thousands of hospo workers in Australia are robbed. We are victims of wage theft. Wage theft, where companies deliberately underpay workers or refuse to pay superannuation, is also hurting people working in retail, farms and fast food. If workers stole from the till, we could go to jail. But if bosses steal from us, all they have to do is pay it back, if they're ever caught. How is that fair? The rules are broken. The current laws make wage theft too easy and the punishment is too light. It's now so common it's become a business model. Venue owners right now are getting rich by stealing from their staff. WE NEED TO CHANGE THE RULES
Prime Minister, if you are serious about upholding the law, make wage theft a criminal offence and introduce much bigger fines. We need to hold companies to account for their theft.