To:

Professor Ian Martin- Deakin University VC
Pledge to Deakin casuals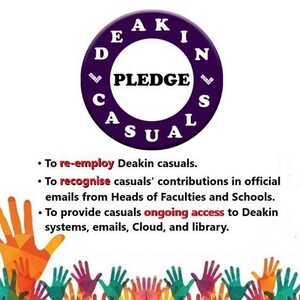 1. Ensure the relevant members of Faculty Executives make an explicit commitment to re-employ recently employed Deakin casuals rather than make new external appointments.
2. Ensure the relevant members of Faculty Executives send – where it is not possible to keep casual staff in work – an official communication expressing appreciation for the casual employee's important contribution and explaining the processes for future re-engagement in a timely manner from HR and/or Deans and Heads of Schools and Faculties.
3. Ensure that – where it is not possible to keep casual staff in employment – affected casual staff continue to be treated as valued members of the Deakin community and continue to have ongoing access to the Deakin systems, emails, Cloud, Deakin Library and affiliation as Visiting Scholars.
Why is this important?
Re-employing, recognising, and providing Deakin casuals ongoing access to University systems is essential for ensuring that Deakin is strongly positioned in 2021 and beyond, to educate the new influx of domestic students, carry out research, and build community connections in a post-Covid environment.
Before Covid, around 6000 sessional academics, casual professional, casual research and fixed term staff were employed by Deakin, carrying out the bulk of teaching, student support and research assistance. Following Covid, the jobs of approximately 2500 insecure workers were cut.
The mass job losses sustained by Deakin casualised staff haven't, however, been mentioned in the University's official figures of job cuts, and the way in which the employment of casuals and sessional staff was terminated at the Faculty-level, as part of Deakin's response to Covid-19, has for the most part been demeaning and disrespectful.
In some Faculties, casual professional staff were informed in a proforma email by their line manager that they had been laid off, while in other Faculties casualised staff members only found out they had lost their job when they received an email from E-solutions advising that their email account would be closed down in seven days.
This brutal treatment of Deakin casualised staff is incredibly short-sighted because casuals will play an important part in supporting the University's vital role of rebuilding Australian society and the economy post-Covid-19.
Vice Chancellor Professor Iain Martin himself has acknowledged the important role of Deakin casuals in a letter to staff on 18 June: "Deakin recognises the important contribution of our sessional academic staff … I am sure that when student demand increases, Faculties will be keen to re-employ those sessional staff who have previously been employed by Deakin and know the way our systems and processes operate."
Professor Martin indicated on 28 April that the University can give preference to any non-ongoing staff who were cut during the COVID-19 pandemic, when engaging staff for these roles in the future, in a meeting with NTEU Deakin Branch representatives.
Please join with us by signing this petition calling on Professor Martin to take the 'Deakin Casuals Pledge' to ensure casuals are re-employed, casual staff's contributions are recognised, and casuals are provided ongoing access to Deakin systems!