To:

Scott Morrison and Angus Taylor
Stop blocking offshore wind – climate jobs now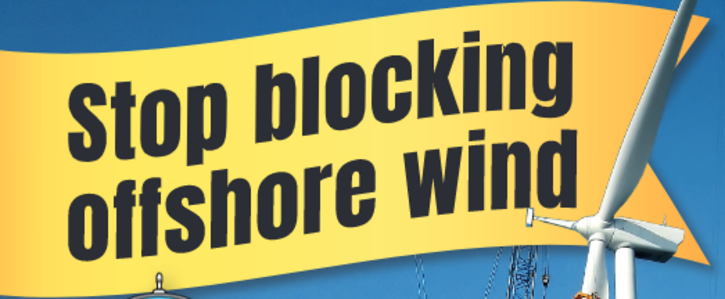 We demand the government of Australia
1. Urgently introduce legislation into Parliament so that the offshore renewable projects in Australia can move ahead.
2. Ensure that offshore renewable resources are included in the energy regulators next Integrated System Plan for the electricity system.
3. Ensure that government research agencies consider the role of offshore wind in balancing the electricity system and reducing the need for new energy storage, re-using transmission lines to reduce the need for new lines, and reducing bushfire risk.
Why is this important?
With unemployment at record levels, thousands of jobs and billions in investment are waiting on the government's offshore renewables legislation. We need these projects to create jobs, reduce energy emissions, and help address the climate crisis.
Offshore wind could play a big role in decarbonising the electricity system in Australia.
3 huge offshore wind projects are in the works in Australia: Star of the South off Gippsland, Victoria, Newcastle Offshore Wind off NSW, and the Mid West Wind and Solar Project south of Geraldton in WA. These projects connect the immense renewable energy resources off our coasts with the existing transmission lines, population and industry built near the coast.
Using our offshore renewable resources can provide thousands of transition jobs for offshore oil and gas workers and other energy workers. Offshore wind projects can be located near existing coal fired power stations. The International Energy Agency says that the strength and consistency of offshore wind make it potentially comparable with gas and coal fired power (IEA Offshore Wind Outlook 2019).
The government is offering much less support to ocean renewable energy than it has offered to gas-fired power stations, fracking, and pipelines. If Commonwealth-owned Snowy Hydro is building new energy generation, it should be offshore wind in Commonwealth waters.
The Government was supposed to introduce an Offshore Clean Energy Infrastructure Bill in mid-2020 but that time has passed and there is still no draft Bill. Credible offshore wind projects have been waiting more than five years for this legislation. The bill should provide that Work Health and Safety for offshore wind should be part of the national harmonised system, and recognise that the National Offshore Petroleum Safety and Environmental Management Authority (NOPSEMA) is not the appropriate body to regulate offshore renewable energy.
The government needs to open its eyes to the enormous renewable energy resources off our coast.
More information on the potential for offshore wind in Australia is here https://www.mua.org.au/campaigns/Build-Offshore-Wind-and-A-Just-Transition