To:

John Rogers, Wilson Security CEO
Tell Wilson to stop ripping off their security guards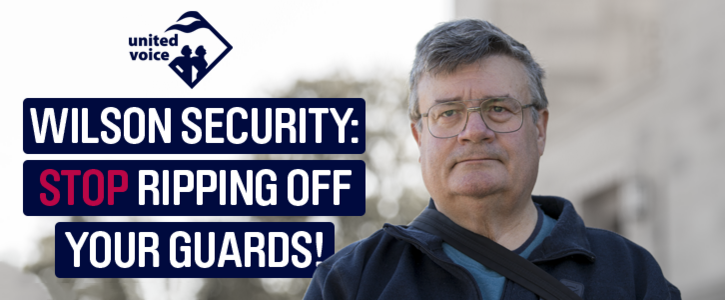 My name's Norm Davis, and I've been a security guard for 15 years. My employer, Wilson Security, has been manipulating overtime hours to cut our already low wages even lower. Can you sign and tell Wilson to stop ripping off their guards?
Why is this important?
UPDATE: Norm is now taking on Wilson Security in the Federal Court in Canberra. Show Norm you've got his back on March 8 at 10:00am - more details: http://bit.ly/2Ce2LcK
"Together with my union, United Voice, I've tried, over and over again, to get Wilson security to stop stealing from their employees. It is systemic wage theft, from people who really can't afford to lose any money. I'm losing more than three thousand dollars a year - and there are hundreds of people just like me.
"Most security guards are on really low wages. The whole industry tends to work on rotating rosters - four days on, four days off. A lot of security companies try to save money by scheduling overtime shifts on Sundays. But Wilson Security has gone a step further - they're picking and choosing when 'overtime' shifts occur - so they can avoid paying overtime. 500 security guards are being ripped off in the ACT alone.