To:

Fraser Short, CEO The Sydney Collective
"The worst place I ever worked" Tell Watsons Bay To Stop Exploiting Migrant Workers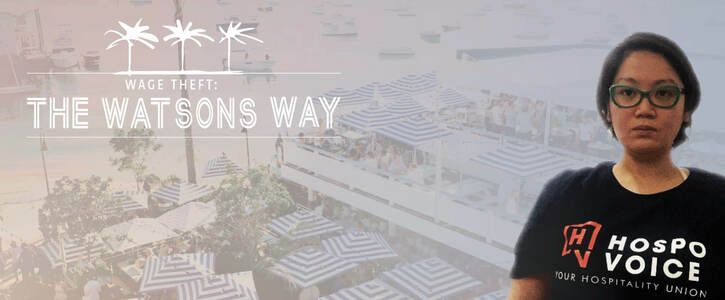 You might know Watsons Bay Boutique Hotel as one of Sydney's most picturesque harbourside hotels. But for me, it was the worst place I ever worked.
I worked there as a chef for four years and I would often work 60 hours a week, and many of those hours were unpaid.
Our shifts would stretch 12-13 hours. But management would change our timesheets so it looked like we worked less.
I was so exhausted on my days off, I couldn't have a life while I worked there. My husband was a chef there too, and he had panic attacks before going to work.
My union, Hospo Voice, calculated that Watsons Bay Hotel stole about $200,000 from me. Between myself and four other staff, we had about half a million dollars stolen from us.
I am a migrant worker, and most of my coworkers were too. I feel like Watsons Bay Hotel hires migrant workers because they think they can get away with exploiting vulnerable staff. They count on us being too scared to speak out.
But now we're fighting back, in our union, and we want justice. Now.
Why is this important?
We demand this company to clean up its act.
Watsons Bay Hotel charges guests more than $800 a night for their hotel rooms, while they steal wages from some of Australia's most vulnerable workers.
This exploitation must stop.
We are calling on management from Watsons Bay Hotel to meet with workers and our union and explain how they'll pay back ALL our stolen wages and treat their workers with respect.
Watsons Bay Boutique Hotel is just one of nine venues owned by the Sydney Collective hospitality group, and workers say wage theft is happening across the company.
We need accountability at ALL their venues, including The Imperial in Erskineville, Northies Hotel in Cronulla, The Morrison and The Republic Hotel in central Sydney, Daniel San in Manly, the Park House in Mona Vale and Balcony Oyster Bar in Byron Bay and their new venue at Circular Quay.
+
+
+
Brought to you by Hospo Voice - Your Hospitality Union. Powered by United Workers Union.