To:

ACT Government
Building Canberra's Infrastructure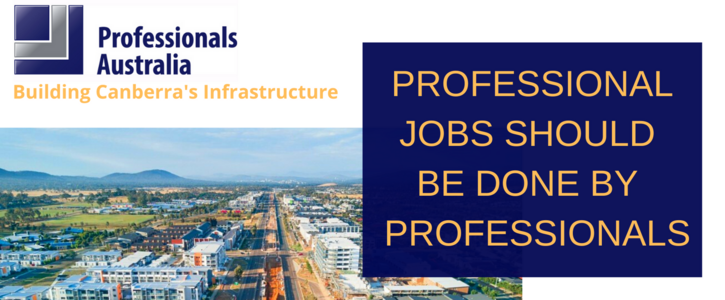 Professional Jobs should be done by Professionals
The ACT Government has a $14 billion infrastructure plan but, increasingly, key roles in the design, management and maintenance of Canberra's infrastructure are going to people without the right qualifications.
We know this leads to waste, delays for the community, added costs for ratepayers and issues with safety.
The ACT Government is planning for the future, but they must act now to ensure we have a professional workforce who can deliver for the community. The ACT Government must fix the issues and ensure professional jobs are performed by qualified professionals.
Why is this important?
We know that employing qualified professionals with the right expertise is essential for community safety and improves the quality of Canberra's infrastructure.
The ACT Government must ensure it has the appropriately qualified and accredited professional workforce it needs to inform decision making, enable efficient investment and maintain its position as an informed purchaser. Maintaining the integrity of the Infrastructure Officer (IO) and Infrastructure Management Specialist (IMS) classifications is critical to achieving this.
These classifications were created because of a successful campaign led by Professionals Australia members for better recognition of their specialist skills and knowledge. The IO and IMS classifications were meant to ensure the ACT Government could attract and retain the people it needs to deliver major infrastructure safely, on time and on budget.
Right now, Professionals Australia members across the ACT Public Service have serious concerns that IO and IMS positions are routinely misclassified and often awarded to applicants who do not have the expertise that qualified infrastructure professionals, including engineers, architects and degree-qualified building professionals can provide.
We know that things will only improve when Government and the community understand the vital contribution Professionals make to community safety and efficient delivery of infrastructure projects. We are prepared to work hard to achieve a better future – but we can't do it without you!
Add your support and help raise the profile of Australian Professionals. Tell the ACT Government that professional expertise matters!