To:

C&K CEO Michael Tizard
C&K, it's time to CUT the CUTS!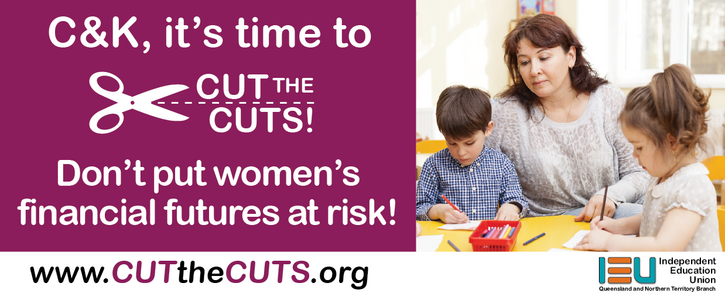 **CAMPAIGN UPDATE: 1 March 2017**
We have great news to share!
As a result of your support and the ongoing campaign by IEUA-QNT members, C&K has finally agreed to CUT the CUTS! and protect existing conditions for employees in C&K Branch Centres.
At the most recent negotiation meeting held on 24 February 2017, it was confirmed that the superannuation co-contribution scheme would be protected and remain available to all employees, both existing and new.
Members' call for more time for Directors to do their job was also finally heard with C&K now offering 10 hours per annum of release time for Directors available by application.
This news comes after earlier community support and member action resulted in C&K scrapping its proposed cuts to redundancy payments and employees' vacation time.
You can read more about these significant wins for IEUA-QNT members in C&K Branch Centres at www.cutthecuts.org
Thank you again to everyone who supported the CUT the CUTS! campaign!
*************************************************************************
C&K employees and IEUA-QNT members want C&K to stop holding them to ransom when it comes to receiving a wage increase comparable to colleagues in the State and Catholic education sectors. These sectors have been the benchmark for wages for over 30 years.
C&K's plan to only provide Branch Centre staff (teachers and assistants) with comparable wages on the basis of cuts to employees' superannuation entitlements, redundancy payments and vacation time is shameful.
C&K employees, the majority of whom are women, should not have to make a choice between comparable wages and conditions which are vital to their financial future. C&K, it's time to cut the cuts!
Why is this important?
C&K (Creche & Kindergarten Association), Queensland's largest early childhood education provider, claims to be an employer of choice for women.
So why are they trying to strip women employees of conditions key to their financial future?
C&K's plan to cut superannuation entitlements for its Branch Centre staff is particularly insidious. The current provision provides critical extra dollars into employees' superannuation – something which was hard fought for and won by employees in the sector.
C&K wants to take this provision away from its workforce, the majority of who are women, despite Industry Super Australia data showing that the average gap in super balances at retirement for women versus men will grow to around $170,000 by 2030.
As members of the Independent Education Union of Australia – Queensland and Northern Territory (IEUA-QNT) Branch, we urge you to join with us to tell C&K that we will not stand by as they attempt to strip women employees of conditions key to their financial future.
Help us tell C&K, it's time to cut the cuts!