To:

Scott Morrison
End wage theft & human rights abuses on Australian farms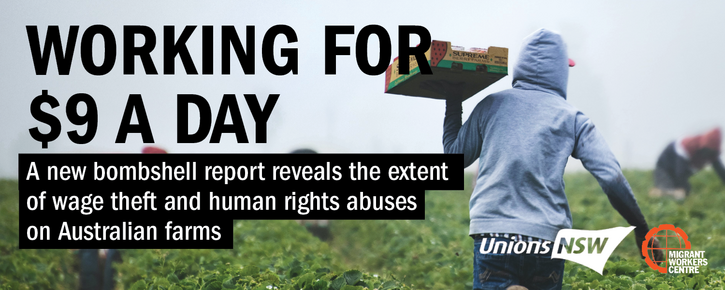 A bombshell report has revealed further alarming evidence of widespread exploitation and rampant wage theft experienced by backpackers working in the horticultural industry. It comes at a time when piece rates in the Horticulture Award are under review in the Fair Work Commission.
We're calling on the Fair Work Commission to amend the Horticulture Award to guarantee workers are paid at least minimum wage – and we're demanding the Morrison Government commit to a range of urgent measures to address this catastrophic situation.
The federal government must:
● Make wage theft a crime
● Introduce stronger enforcement of backpackers' accommodation to combat widespread non-compliance with relevant housing laws
● Fund regional hubs, and fund unions and community legal centres to run information
sessions to empower workers to learn about and stand up for their rights
● Introduce a national labour hire licensing scheme modelled on Queensland and Victoria
● Make a raft of systemic changes to combat discrimination facing migrant workers,
including reforming the temporary visa system, introducing pathways to permanent
residency, and providing a social safety net for all temporary migrant workers.
Sign the petition now.
Read the report here: migrantworkers.org.au/9aday
Why is this important?
All workers, regardless of where they're from, deserve to earn a living wage and work in safe conditions. But the Migrant Workers Centre and Unions NSW's latest survey of more than 1300 backpackers reveals the majority of farm managers are engaging in rampant wage theft and outright abuse. Workers from 54 countries were surveyed about their rates of pay, entitlements and conditions.
Key findings
● 78% of survey respondents reported being underpaid at some point.
● 80% were underpaid while on piece rates, and 61% were underpaid on hourly rates.
● Some piece-rate workers reported earning less than $1 an hour.
● Only 2% earned $26 or more an hour.
● The lowest daily wages were reported by piece-rate workers employed on grape and
zucchini farms, earning an average $9 per day, followed by blueberry farm workers who
averaged $10 per day.