To:

Christian Porter, Federal Minister for Industrial Relations
Enough is enough. Stop gig workers from being killed on our roads.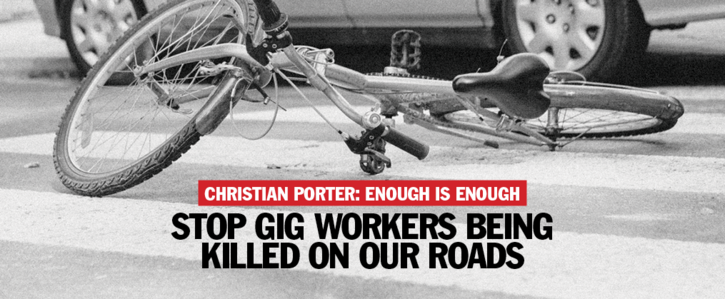 In 3 days two UberEats riders have been tragically killed at work.
This brings the total number of food delivery riders who have been killed at work in the last 3 months to five. Their names are Bijoy Paul, Chow Khai Shien, Xiaojun Chen, Dede Fredy and Ik Wong. Every worker deserves to come home safe from work and these did not.
The gig economy is literally killing workers. Without health and safety rights, insurance and a living wage riders are forced into working quickly rather than safely over long hours to pay their bills and buy groceries.
Platforms like UberEats are getting away with turning a blind eye to the health and safety of their workers as the Federal Government attempts to wash its hands of responsibility and fails to act.
Federal Industrial Relations Minister, Christian Porter, must step up and act immediately to enforce minimum standards to keep gig workers safe.
This is a crisis of national proportions and it is not enough for Christian Porter to simply extend his "deepest sympathies" to the families of the workers who haven't made it home safely. As the Federal Industrial Relations Minister he has the powers to regulate the gig economy and extend protections and support to these workers.
Why is this important?
Delivery riders work night and day for an average of just $10.42 an hour*. They often have to work 50 - 60 hours a week to cobble together a basic income.
They have no right to insurance when they get injured or die on the road, and it is at the discretion of huge multinational companies like UberEats and Doordash as to whether their families get supported.
A survey conducted by the Transport Workers Union in September found that 73% of food delivery riders are worried about being 'seriously hurt or killed' at work. And their fears are clearly not unfounded.
The Federal government must step up and take responsibility for workers being killed on the job by pulling these cowboy companies into line.