To:

PROFESSOR JOHN DEWAR
FORCED REDUNDANCIES ARE NOT THE ANSWER
The petition has been handed over and we are moving to the next step of the campaign. Thank you to all who signed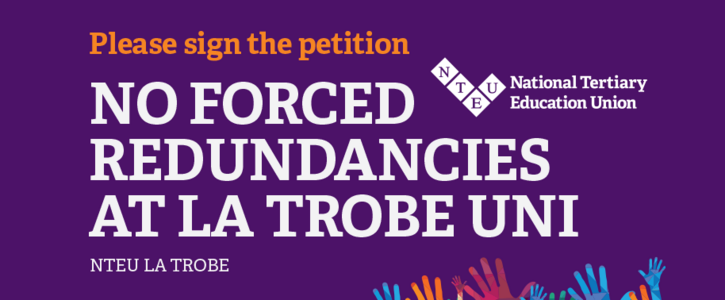 Professor John Dewar has announced there will be another round of job losses at La Trobe University. This time, it's forced redundancies. Staff have made huge sacrifices over the past twelve months with wage cuts, additional workload stress, and working from home, and remain loyal and dedicated to the University, their employer.
Despite the sacrifices that staff have made, the University will make 250-300 workers redundant. At the same time, the University has doubled its expenditure on external consultants, including $6.5m on a single consultancy (source – LTU annual report 2020).

We, the undersigned, call on Professor Dewar to:
• Find alternative measures to involuntary redundancies, for example job shares, pathway to retirement contracts and similar methods;
• Review the use of external consultants and prioritise using the university's financial resources retaining existing staff not hiring external consultants;
• Explore and consult staff regarding potential cost savings mechanisms that don't involve cuts to workers;
• Implement substantial permanent reductions to the excessive salaries and bonuses of executive staff.
Why is this important?
• 'Spill and fill' redundancy measures will only exacerbate the anxiety and stress experienced by staff.
• The University has a responsibility to its staff and to do the right thing for them.
• Redundancies may lead to important work being shifted onto remaining staff or outsourced to external agencies at a substantially higher cost than if performed by University staff.
Your signature is important to demonstrate support for La Trobe staff and students and to ensure that the University uses our public resources to maintain high quality employment conditions, so that University staff can continue to deliver quality education and research across Victoria.
How it will be delivered
The petition will be delivered to Professor John Dewar by the LTU NTEU President Alysia Rex.