To:

Melissa Horne, Victorian Public Transport Minister
Melissa Horne - Out of touch and out of her depth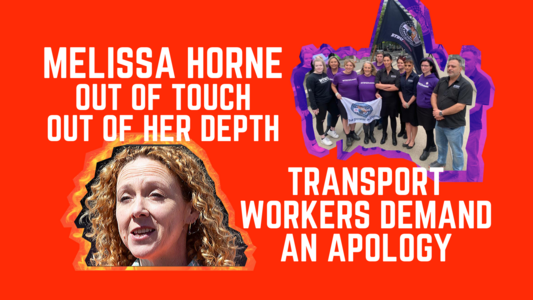 After reading RTBU State Secretary Luba Grigorovitch's recent letter to Public Transport Minister Melissa Horne, I wanted to extend my support of Luba's demand to Minister Horne for a public apology to RTBU members for her offensive comments about them, and to demand her resignation as Public Transport Minister.
Personally, I have found Minister Horne's comments and abandonment of public transport workers infuriating and deeply insulting.
It is clear that Minister Horne is out of touch with workers and the travelling public. If she had spoken with the RTBU Branch Secretary, RTBU Women's Advocates and myself as RTBU Women's Officer, then she would learn that her remarks are grossly ignorant and uninformed about our reality as working women. RTBU Women are wholeheartedly united with those RTBU "middle aged blokes" in the fight for a fair deal.
Minister Horne may wish to play the victim card by accusing RTBU members of "bullying and intimidating" her in our campaign to win her support, however if she can't handle being told to do her job – which is not only to manage the Public Transport portfolio, but also, as a representative of the ALP, to support workers' living standards – then she must resign.
Please share this far and wide and encourage everyone you know to sign this petition. It's time the Labor government remembers its roots.
Why is this important?
The Minister for Public Transport is out of touch and out of her depth.
Her comments have angered the hardworking women and men who keep Melbourne's network running and her lack of action has led Victoria into a transport crisis.
RTBU members do not support politicians who don't support us, nor do we support politicians who are dismissive of workers and our rights.
We are calling upon workers EVERYWHERE to unite in solidarity by signing this petition to call for a public apology from Minister Melissa Horne, along with her resignation as Public Transport Minister.