To:

World Bank, IMF and AIIB
No asbestos in Covid 19 relief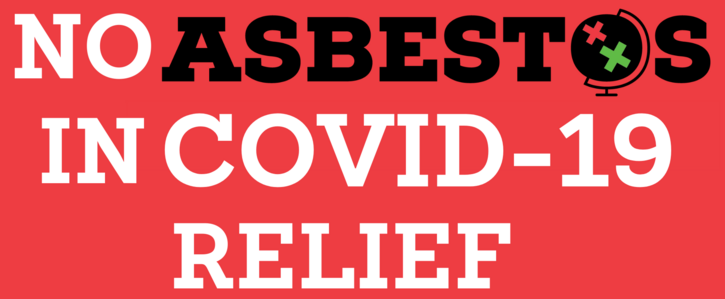 Help us stop Covid 19 health and economic stimulus funding from going to asbestos products
The majority of the world's asbestos is now consumed in Asia, where tens of billions of dollars in economic stimulus and health spending is being committed right now. If this funding is not protected from the asbestos industry, then we will see hospitals, infrastructure, housing and public buildings constructed with asbestos. The hazardous material will leave a dangerous legacy for communities and workers.
In 2019 we worked together to change the Asian Development Bank's policy to end asbestos use in their projects. Now we need your help to stop all other development funding from being spent on asbestos products.
Why is this important?
There is unprecedented international funding for public health programs. In countries where asbestos is still used, health infrastructure such as hospitals or clinics built to respond to the Covid 19 crisis may contain asbestos building materials. Economic stimulus around the world is injecting money into infrastructure and construction and in countries that still use asbestos this will result in a boost to the asbestos industry and a toxic health legacy for decades to come.
Unless we act to win safe, sustainable and just health and economic stimulus spending then corporations and industry lobbies will take advantage of this moment to advance their own interests.
The scale of funding is huge. The World Bank, Asian Development Bank, Asian Infrastructure Investment Bank and other multilateral development banks have announced tens of billions of dollars in grants and additional 'concessional' credit to the world's poorest countries. To match the unprecedented responses by international organisations and governments across the world, we can take a bold step by committing that no recovery or health stimulus funds will be used to purchase asbestos building products.
Join this campaign and make sure that the asbestos industry doesn't profit from this health crisis.
How it will be delivered
Right now we're working with international allies to take this urgent matter straight to the Boards and Presidents of the Banks responsible . We will add your name to this global campaign to make it even more powerful.