To:

Dean of Education and Social work and University of Sydney management
No cuts! Support USYD Education and Social Work staff!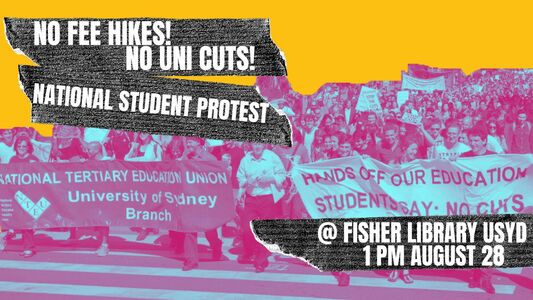 The management at the University of Sydney are moving to cut staff at the School of Education and Social Work by 30% in the middle of the COVID-19 pandemic. For students, this will mean a depreciated quality of education and learning conditions.
We demand that management pay for the crisis in our universities, the burden should not be on staff and students. All staff cuts should be immediately dropped. Management wants to maintain their profitable institutions at the expense of our education and staff livelihoods.
Why is this important?
This is part of a series of attacks against staff and student from both the Liberal government and university management. Courses are getting slashed while the price of education is increasing. Social work students under current liberal plans will also see the cost of their degrees double in 2021.
The University of Sydney is one of the richest universities in the country and Vice-Chancellor Michael Spence sits on a million-dollar yearly salary.
Management can easily afford to fund the School of Education and Social Work, but they're only concerned about their profits. We need to fight back against all attacks against our education!
If you want to join the campaign, join the USYD Education Action Group and join the organising group for Education and Social Work students https://www.facebook.com/groups/1267400043595226/.
Join the National Day of Action on August 28 to fight for our education! https://www.facebook.com/events/281188686290641/