To:

Premier Jacinta Allan, Education Minister Ben Carroll, and Minister for Children Lizzie Blandthorn
Paid placements for all pre-service teachers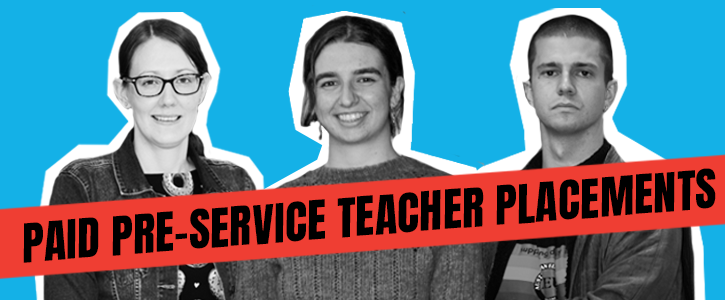 Pre-service teachers in Victoria are required to complete up to 80 days of unpaid professional placement. This makes it really difficult to balance their unpaid placement with their regular paid job and cover rent, food, transport, and other living expenses.
Many are forced to defer their studies to save up money, extend their course completion time, or drop out of their studies because of the financial burden. This ultimately reduces the number of new teachers entering the workforce.
We call on the Victorian government to provide paid placements for all pre-service teachers, to support the next generation of teachers and create a sustainable future for public education.
Why is this important?
Financial stress means many aspiring teachers struggle to manage their living expenses while undertaking unpaid teaching placements. Some ask family and friends for financial assistance, and others take on personal loans. The impact of unpaid placements is particularly severe for those with families or caring responsibilities, regional and rural students, and students from marginalised communities.
Too many pre-service teachers are unable complete their studies, making Victoria's teacher shortage even worse. Without enough teachers in our schools and kindergartens, students are denied access to the full range of learning and support programs they need.