To:

Peter Edwards, Perfection Fresh CEO
Supermarket CEO's: Meet Perfection Fresh workers targeted for joining the union and Speaking Out!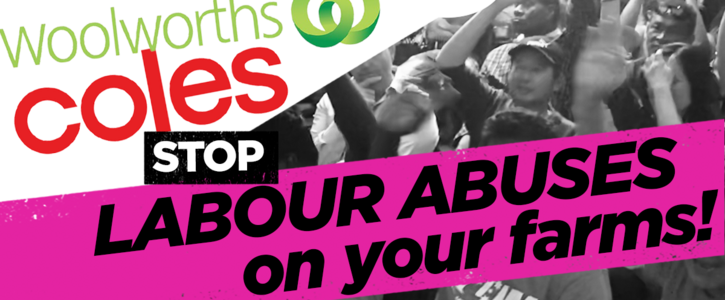 Coles and Woolworths have the power to run their supply chains ethically and to guarantee workers safety and workers rights are protected.
Coles and Woolworths must meet with the union and farmworkers in Perfection Fresh Supply chain to hear first hand the stories from worker leaders who are being targeted for speaking out.
'Perfection Fresh' are Coles and Woolworths biggest fresh food suppliers and are owned by the Smorgon family - the wealthiest family in Australia.
Perfection Fresh grow their own produce and also act as a marketing arm for other farms selling directly into Coles and Woolworths stores.
Workers across the Perfection Fresh supply chain are systematically targeted for daring to speak out about serious issues at work.
Over the last couple of years workers in Perfection Fresh South Australia have been bravely speaking out about serious safety issues like climbing on railings to pick higher crops, sometimes in 45 degree heat! In other Perfection Fresh supplier farms, workers have been voicing concerns about dodgy contractors, piece rates that are below a living wage and visa insecurity.
The Perfection Fresh marketing model undermines the ethical supplier codes that are supposed to protect workers right to join a union of their choice and to speak out against unfair treatment.
Together we can act to make sure that all suppliers in the supermarket supply chains are respecting workers rights, freedoms and safety.
Why is this important?
Workers at the Perfection Fresh glasshouse in South Australia were the first group of workers to kick out dodgy contractors and win their first enterprise agreement. They are now joining with other Perfection Fresh workers to win basic rights as workers, have the company recognise their freedom to be union and make sure workers are able to speak out!
By speaking out together and supporting the struggle of brave farmworkers we can make sure REAL action is taken to end worker exploitation and abuse that is happening throughout the supermarket supply chain.
"The company puts too much pressure on us and has no respect for
our rights. They target any worker that joins the union. The working conditions are extremely unsafe and many of us have become injured. As farmworkers we are asking Coles and Woolworths to support us and help us fight for our right to speak out!"
- Safdar, worker and union delegate at Perfection Fresh