To:

Vice Chancellor, Chancellor and Senate of University of Queensland
Stop the Ramsay Centre at UQ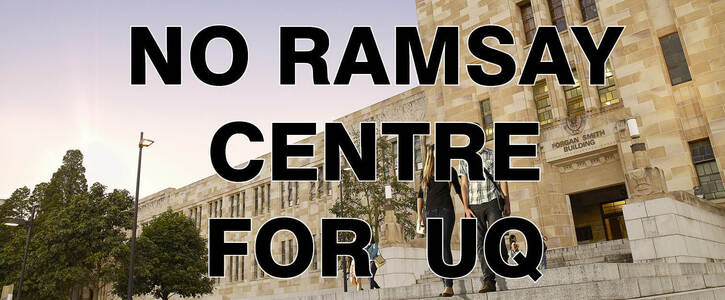 The University of Queensland has a historic commitment to academic freedom and university autonomy. It also prides itself upon its consistent history of advancement of equity, diversity and inclusivity as well as incorporating cultural competencies as an important skill for UQ students to develop.
Not only does the proposed partnership with the Ramsay Centre threaten the customary conditions of academic freedom, university autonomy, and transparency at UQ, but it raises serious concerns about educational diversity and equity and the quality of UQ curriculum. UQ management say that their proposal safeguards academic freedom but at the same time it proposes to allow Ramsay Centre representatives to sit on selection panels. Additionally, the proposed Centre threatens to create program inequities between HASS degrees and has the potential to privilege students who are already-privileged. Finally, the proposed curriculum, in its structure and content, is regressive and outdated. Teaching in this way would threaten UQ's academic reputation nationally and internationally.
Please join staff, students and alumni at UQ in opposing the Ramsay Centre.
Why is this important?
UQ management's current negotiations with the Ramsay Foundation - a conservative organisation that proposes to fund programs and majors in "Western Civilisation" threaten academic freedom at UQ, UQ's national and international reputation and the university's commitment to equity and diversity. The published statements of Ramsay Centre board members make clear that it is an explicitly political-ideological enterprise dedicated to promoting a particular, uncontested view of "Western Civilisation" expressly counterposed to current practices and approaches at UQ.
Why is this important? NTEU members, staff and students at UQ are determined that the proposed centre will not go ahead. The project would allow Ramsay representatives to have decision making power on the hiring for staff teaching into the program. This is an attempt to pay cash for a University curriculum that serves conservative political ends. UQ must reject Ramsay and demonstrate that we are NOT FOR SALE. Call on the Vice Chancellor, Chancellor and the Senate to reject the proposed Ramsay Centre! Sign the petition below: