To:

University Vice-Chancellors
SUPPORT STUDENT SAFETY, STOP THE WAR ON WOMEN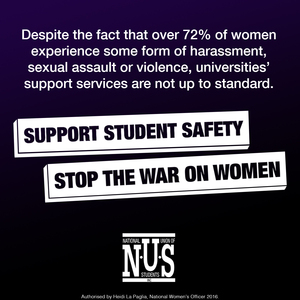 Despite the fact that over 72% of women experience some form of harassment, sexual assault or violence, universities support services are not up to standard. Sign the petition demanding that universities implement zero tolerance policies to sexual violence, and increase support for survivors of violence on campus.
Why is this important?
In 2015, the NUS Women's Department ran the 'Talk About It' survey, which found that over 72% of women at university experience some form of sexual harassment, assault or violence while studying, over 14% saying that they had experienced rape or attempted rape, and over 15% saying that they been physically hurt by another individual.
In the survey, students were also asked whether they reported the incident, and the majority said that they didn't because they did not know about it, or because they didn't think it was worth it; and perhaps even more alarmingly, three quarters of those that did report the incident to their university or to the police, said that little or nothing was done about it.
"I was ignored, told I was simply drunk and it wasn't worth investigating" (University of NSW, 20 year old)
In order to address these alarming rates of violence against women at university, the National Union of Students (NUS) has been working with a number of stakeholders including the team that has rolled out screenings of the well known documentary, The Hunting Ground across Australian university campuses, as well as The Australian Human Rights Commission (AHRC), who have worked with Universities Australia (UA) to roll out a national survey which aims to gain an understanding of the prevalence of sexual assault at universities and develop recommendations to strengthen university responses.
However, while all 39 Australian universities have committed to rolling out the survey, and working to make university campuses safer; they have not committed to making concrete changes to support students who are survivors of sexual violence, or to prevent incidents from occurring.
In order to improve women's safety at university, we are calling on all universities to implement the following, and use the survey results to improve support services for survivors.
-adequate lighting, 24/7 security, and safe spaces for women
-stand alone zero tolerance policies on sexual harassment, assault and violence,
with clear repercussions for perpetrators
-accessible and clear reporting processes, with effective remedies for survivors
-sexual assault counsellors on every campus
-mandatory consent training for all staff and students
Sign the Petition. Demand Action!