To:

Prime Minister Scott Morrison
Vaccinate our students now!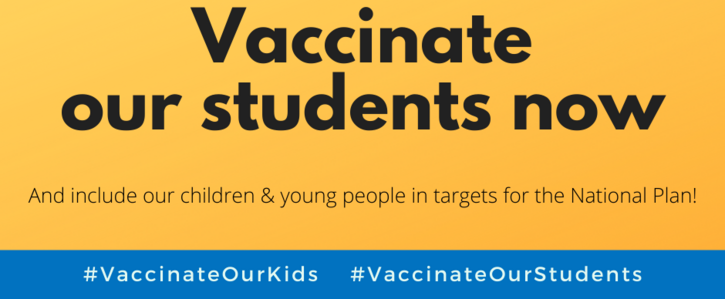 We call on Prime Minister Scott Morrison to include the vaccination of 12-15 year old students in the National Plan, the vaccine threshold of 70 and 80%, and the vaccine rollout. Furthermore, children under 12 years should also be included in the National Plan if clinical trials show that vaccination against COVID-19 is safe and recommended for these ages.
This petition was created on behalf of the Princes Hill Secondary College AEU sub-branch. It was originally passed as a motion in our union sub-branch on the 24th of August.
Why is this important?
*update* National Cabinet is due to meet on August 27 and apparently discuss this issue however we will keep this petition up until our demands are met. Your voice matters. Please share this petition widely.
Scott Morrison has said we must "learn to live" with COVID-19 once we reach an 80% vaccination threshold of adults. This leaves 36% of the population unvaccinated, including most young people under 16 years old. The health toll on young people could be a disaster. Learning to live with the virus poses an unacceptable health risk until all ages under 16 are vaccinated. The National Plan and vaccine thresholds must be updated and include young people.
We are concerned about young people returning to school unvaccinated for the following reasons;
1. Compared to previous variants, the delta variant is more virulent in young people. The Western Australian AMA former President Andrew Miller in WA Today states "The other real worry is that about 40 per cent of kids still have symptoms at four months, and 7 per cent have disabling physical or mental issues at six months, which can lead into long COVID syndrome."
2. Compared to previous variants, the delta variant has a 10-15 times higher transmissibility in young people. To date, young people are disproportionately affected. In Victoria, 45% of infections are in children and teenagers. In New South Wales, the figure is 30%. (22/8/21)
Note these disproportionate infection rates are occurring in the context of remote learning in Victoria and NSW. Concerningly in the regional area of Shepparton, where school remained open for some of the current statewide lockdown, every school has become an exposure site and is now closed with multiple children, young people and their families now infected.
The infection rates could rise further if students return onsite before being vaccinated. Unlike most workplaces, once students return to classrooms, social distancing will be practically impossible. Furthermore, adequate air ventilation, filtration and monitoring infrastructure, at this stage, does not exist.
3. The Doherty report was written before the recent evidence that indicates that the transmissibility of the Delta variant is much higher in young people. The Doherty model's rationale for excluding young people in their vaccine quotas rests on the assumption that "[e]xpanding the vaccine program to the 12-15 year age group has minimal impact on transmission and clinical outcomes for any achieved level of vaccine uptake". This is outdated.  More recent epidemiological modelling indicates that the necessity for heavier social distancing measures will be reduced if 5-15 year olds are included in the vaccination strategy (McBryde et al. 2021). Both the NSW and Victorian Chief Health Officers have recognised that young people are now a vector for broader community transmission.
4. As school staff we are acutely aware of the mental health challenges that students face under lockdown. However, returning students to onsite learning as a predominantly unvaccinated group and into an unsafe environment is not a solution.