To:

Andrew Constance, NSW Minister for Transport and Roads, and Brad Hazzard, NSW Minister for Health
Vaccinate Sydney's public transport workers now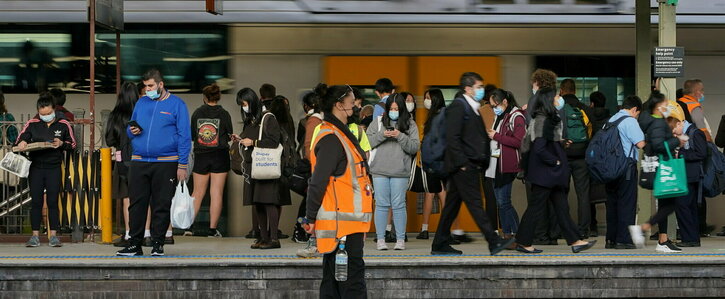 Rail workers have been essential in NSW, especially during the lockdown. Rail services are used by the people of Sydney requiring transport to and from essential work and business. But workers at Sydney and NSW Trains are being recklessly endangered: every day we are exposed to large numbers of passengers and co-workers, and risk contracting the virus at work.
We are employees of Sydney and NSW Trains. We demand that the government makes railway employees eligible for the Pfizer vaccine. Currently, railways workers are scrambling to find available vaccination appointments, when vaccination could easily be provided at network depots. Sydney and NSW Trains management should provide free vaccination services at sign-on buildings across the network. If employees experience side effects from the vaccine and cannot work, they should be allowed to claim the resulting days off as Pandemic Special Leave.
The railway should provide rapid antigen testing of employees at sign-on. According to the NSW Government's own website, "Rapid antigen tests can be performed easily and onsite with results available within minutes." This would allow the train system to continue operating throughout the lockdown, without undue risk of spread among rail workers in lunchrooms, cabs and on platforms. Any employee who tests positive and needs to isolate should be paid as Pandemic Special Leave, not sick or annual leave.
We demand that the ministers, along with the management of Sydney and NSW Trains, enact these simple, logical changes to protect the health of essential public transport workers.
Why is this important?
Many people are surprised to discover that public transport workers, who have worked throughout this lockdown in an essential and public-facing role, are not eligible for the Pfizer vaccine. We come into contact with many members of the public throughout our day, eat and perform standby duties in packed lunchrooms with fellow workers. There is a lot of potential for the virus to spread throughout our workplace and be carried across sydney by our trains. The risk of serious transmission on the railways not only puts rail workers in danger, it threatens to shut down essential rail services which transport other essential workers across the city. We are concerned that no serious measures have been put in place to address these dangers in our work, and that vaccinating our essential workforce should not be the individual responsibility of workers, but the collective responsibility of the government and management.
How it will be delivered
We will deliver this petition electronically