To:

NSW Government
PARAMEDICS DESERVE BETTER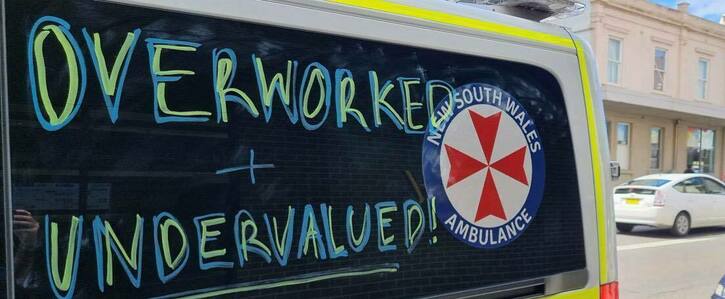 Too often, the first thing we say to our patients is "sorry we took so long". Our healthcare system is failing us—and the NSW Government has let patients and Paramedics down through years of underfunding and neglect.
Two out of three emergency patients are waiting too long for an ambulance, and two out of three Paramedics are thinking about leaving. We need real investment to turn these stats around and build the healthcare system NSW deserves.
We're calling for politicians to commit to better healthcare by supporting Paramedics' six simple asks:
1) An end to the wage cap and a real pay rise to value staff and keep them in the job.
2) More Paramedic specialists to provide advanced clinical care and help avoid unnecessary patient transports.
3) 24/7 Patient Transport vehicles to keep ambulances free for emergency responses.
4) Investment in accessible community-based care to improve patient outcomes and reduce the burden on emergency services.
5) Real action on regional healthcare, including implementing all 44 recommendations handed down by the Regional Healthcare Inquiry.
6) Review our triage system to better manage call volume and ensure every patient gets the most appropriate and timely care.
Why is this important?
Our ambulance response times are the slowest they have ever been. Patients are waiting hours in bed block outside overburdened hospitals. And Paramedics are routinely working through their meal breaks, through fatigue, and into forced overtime.
Frontline workers know what's needed to address this crisis. We need our Government to listen, to make healthcare a priority, and to invest in real solutions to deliver better outcomes.
With an election just around the corner, now is the time to put healthcare firmly at the top of the political agenda and make sure your local candidates are committed to real change.
Every signature shows our politicians that NSW voters won't stand for inaction. We deserve better than a system which leaves patients waiting and relies on Paramedics sacrificing their wellbeing. We're demanding healthcare which delivers on response times, treats each patient with dignity, and doesn't stand for compromise on Paramedic safety.
For more info on our asks: apansw.com.au/we-deserve-better