To:

Professor Margaret Gardner - Vice-Chancellor of Monash University
We want fairer parking fees at Monash University!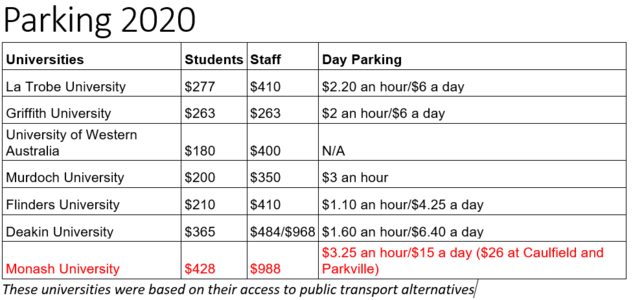 We the undersigned, call on Monash Vice Chancellor, Professor Margaret Gardner to reduce the cost of parking fees for students and staff in line with the cost of living. The parking fees for 2020 at Monash University are at odds with its commitment to social equity and inclusion. We assert that there is no basis for charging staff and students such exorbitant amounts to park at their place of work and study. Especially, when given the lack of public transport infrastructure to the university.
Why is this important?
The National Tertiary Education Union and the Monash Student Association, call upon Monash University to work with our student and staff communities to understand the link between campus accessibility, sustainable transport and affordable options for low income earners.
We demand:
Monash University articulates transparently how parking parking permit money is spent.
Monash University invests in sustainable transport options such as an expanded free inter campus shuttle bus service
Monash University proactively advocate for an improved bus service offering from transport hubs and the city to Monash campuses
Capped permits for staff in line with their pay level
Reduced costs of permits for those who study/work part-time
Day parking permits be reduced to no more than $10 a day