To:

Vice-Chancellor Brian Schmidt, ANU
All staff deserve employer-paid parental leave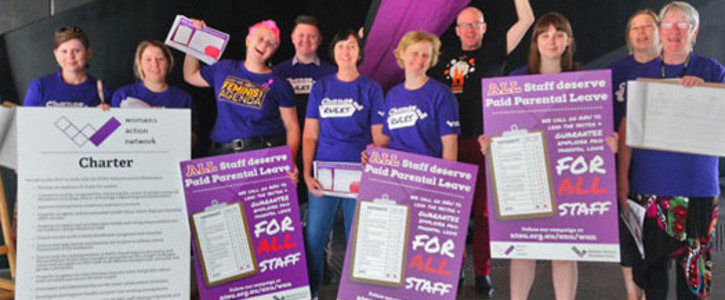 We believe that everyone deserves employer-paid parental leave.
No primary carer should miss out on the critical early time with their child because they can't afford time off. Some new mums have been forced to return to work within weeks of giving birth because they can't afford to stay at home with their baby.
ANU should make employer-paid parental leave available for all employees, not just those lucky enough to have secure work.
× Employer-paid parental leave is currently available only to permanent or fixed-term staff who have been employed for a continuous 12-month period.
× Casually employed staff are excluded from employer-paid parental leave regardless of the length of their service to the university.
× Fixed-term staff are at risk of ineligibility for employer-paid parental leave if they experience a break in service between contracts.
Why is this important?
The current system creates inequities within the workforce, and can lead to serious hardship on families experiencing psychological and financial stress. The careers of women and primary carers can also be negatively impacted.
"I returned to work at the ANU ten days after giving birth to my son. My family needed the income, but it wasn't just this – I also needed to secure my next contract. It was important for me that my supervisors were happy with my performance and recommended me for my next contract. This was a very difficult time. I had psychological health problems. I felt guilty about leaving my son, and would try to see him to breastfeed on my lunchbreaks" (Professional staff member at ANU).
By adopting employer-paid parental leave for all staff, ANU will keep pace with other universities in the sector who already provide paid parental leave on either a full or pro-rata basis for their staff. It will also help to:
• Reduce financial stress on the families of staff who are experiencing loss of their weekly income to care for their children.
• Reduce risks to maternal and child health from returning to work early, and support international guidelines on breastfeeding.
• Contribute to ANU's gender equality goals that aims to ensure all staff, regardless of their identity or sexual orientation, can contribute to their child's wellbeing.
Read the open letter to Vice-Chancellor Brian Schmidt from the NTEU Women's Action Network at nteu.org.au/anu/wan.