To:

Deakin University Council
Deakin Job Losses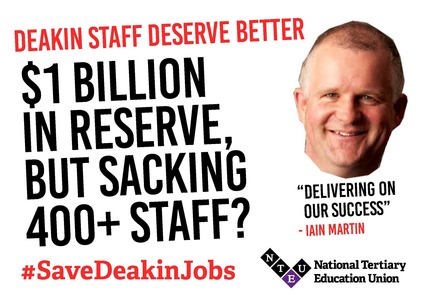 As the governing body responsible for the general direction and superintendence of the University your failure to consult staff on the present response, and alternatives to it, demonstrates a complete disregard for our institution's values of excellence, ethical conduct, inclusiveness and sustainability, as laid out in the 2019 Annual Report.
The aggressive tactic chosen by Council to opt for targeted redundancies as a first response is wilfully and disrespectfully causing damage to the Deakin community; and failing to live up to Deakin's commitment to be the best that it can be, to care about our shared future, and to act in an ethical and inclusive manner. This commitment is integral to the Deakin community, and to abandon it when it does not suit us, cheapens our community and damages our reputation.
We call on all members of Council to halt Phase 1, consult with their staff - with full financial disclosure - and do everything within their power to mitigate job losses across the University, before the damage done to the Deakin Community is irrevocable and all trust in the University's leadership is lost.
Why is this important?
On Monday 25 May, our Vice-Chancellor, Professor Iain Martin, advised Deakin staff that you, our University Council, had endorsed a Restructure/Reshaping Process due to the financial impact of COVID-19. We were advised that Phase 1 of this process would commence within the week.
Staff were advised of a proposed immediate reduction of around 400 positions. Professor Martin noted that the Restructure/Reshaping process was in fact endorsed by Council twice – on 7 May, and again on 21 May.
We are writing to demand that the Council call a halt to the Phase 1 process and consult with Deakin staff - with full financial disclosure - on how they believe the University can best respond to the current financial crisis.
Deakin is a public university so we call on all members of the Deakin community - staff, students, alumni, members of the communities in which Deakin resides and serves, to support staff in calling on University Council to halt to the Phase 1 process.
How it will be delivered
Will be emailed to the University Council Secretary, for dissemination to the University Council members.