To:

Ed McManus, Deliveroo Australia manager
Deliveroo: Raise the Rate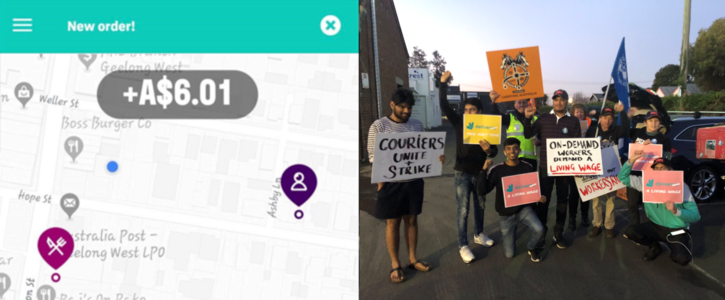 Deliveroo have slashed our pay again with no explanation.
We are a group of riders in Geelong and Waurn Ponds. We're fed up with having our wages cut over and over again by Deliveroo, while doing the same job.
We're asking for three simple things:
- Raise our pay rate to at least $10 per job ($15 for doubles) or $20/hour
- Paid waiting time at restaurants while food is prepared
- Transparency. Tell riders how their pay is calculated. There should be a simple formula that is easy to understand, not a vague algorithm that even Deliveroo management struggle to explain.
We and many other riders have tried to talk to Deliveroo and only get an automated response. You can't negotiate with an algorithm.
Deliveroo, deliver us fair pay. Stop cutting our wages and pay us a living wage.
Why is this important?
Our hours, daily and weekly earnings are lower than they've ever been before, even though we've been doing the same job the whole time.
Riders used to be paid $18.50 an hour and now we're not paid an hourly rate at all. Deliveries can be as low as $6 or less, despite Deliveroo promising they wouldn't go below $8 per delivery.
There's no transparency and no ability to say no to changes in our wages. We just notice it going down through the app.
We work in the cold conditions during winter. We work really hard for peanuts. Seeing our wages go down and down is gut-wrenching. We can't depend on these wages.
We are demanding Deliveroo raise our rates of pay and lock them in.
Deliveroo workers need security and a living wage.
Michael, PK, Radhesh and the Roo Riders