To:

Scott Morrison
Paid Isolation Leave For All Workers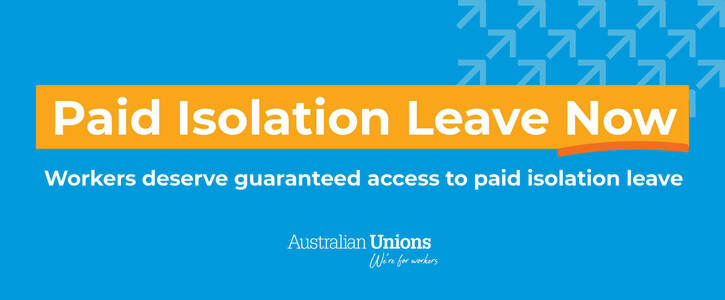 We are calling on the Federal Government to implement Paid Isolation Leave for all workers.
As the country begins to open up, if you need to isolate, quarantine, or cannot attend work because you or someone you care for is exposed to COVID-19 you should have Paid Isolation Leave. 

Workers know that if we are going to avoid our hospitals being overrun and our communities needing to go into regular lockdown, we cannot have a test, trace and isolation system that shifts the costs on to working people and small business.
Scott Morrison must ensure no worker should lose income or accrued leave to isolate and all workers have an industrial right to isolate on full pay.
Businesses should receive compensation for wages paid to isolating workers. This will protect both workers and small business.
No one who needs to isolate should have to worry about putting food on the table or paying the rent. No worker should face going into debt or losing income if they are exposed to, or are caring for someone exposed to COVID-19.

We need guaranteed Paid Isolation Leave for every worker.
Why is this important?
Workers have carried Australia through this pandemic. Many essential workers are still at constant risk of community or workplace exposure to COVID.

Over two million casual workers do not have access to any paid annual or sick leave. Every worker, regardless of the employment they are in needs an industrial right to isolate on full pay. And all businesses deserve to receive compensation for this leave.

Paid Isolation Leave is critical to make sure workers or someone they care for can safely test, isolate or quarantine – and keep their families, communities and workmates safe.