To:

Monash Vice Chancellor Professor Margaret Gardner
Paid Vaccination Leave for all Monash Workers
vaccination leave is paid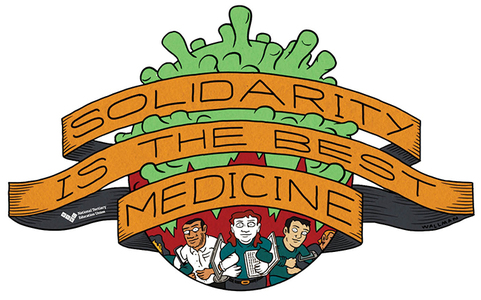 COVID-19 affects us all. We want all Victorians vaccinated as soon as possible. But we need our employers to help. We're concerned that without paid time off, many Monash workers will be left struggling to find the time to get vaccinated.

Monash University has done good work helping staff get access to vaccines. But it's not enough. Our casual colleagues don't have access to paid sick leave, so they're required to get the vaccination on their own time. If the only appointment they can get is at a time when they would have been working, they lose pay. No staff member should have to choose between getting vaccinated and paying the bills.

Monash University posted a $259 million operating surplus this year. Staff have moved mountains to keep the University teaching and operating through the pandemic. It's time for Margaret Gardner and senior management to give back.

Universities are the forefront of the fight against COVID. Our scientists and teachers are researching the next vaccines and teaching the next generation of doctors and nurses. We need to give everyone at our University the best chance to get their jabs. By providing paid time to get vaccinated, Monash University can show all its staff that you care about their wellbeing. You would also be sending a powerful message to the community that we are in this together.
Why is this important?
Australia needs to be vaccinated as soon as possible. But we're running last in the race to get it done. We won't reach the required levels of COVID vaccination without more vaccine supplies and a faster roll out. We can't rely on a system where workers have to get their jab on weekends or during lunch breaks.

Monash University allows full-time workers to get vaccinated on work time. But it won't pay casuals to do the same. No worker should have to choose between getting vaccinated and paying the bills. The latest plan from the Morrison government will see 2 million jabs per week being administered from September. We need paid leave to attend vaccination and recover from routine side effects.

Last year workers in our Union campaigned for and won paid pandemic leave and one day a week carer's leave for staff caring and home-schooling. This year, together, we can win paid vaccination leave. But we need to work together.

We need a strong voice to demand nation-wide paid vaccination leave. We need it for the University, and we need it for our colleagues and students.

Sign the petition for paid vaccination leave. Join your union.
How it will be delivered
Due to the current restrictions the petition will be delivered by email