To:

Vice Chancellor Professor Harlene Hayne
Reinstate Workload for Curtin NTEU Branch President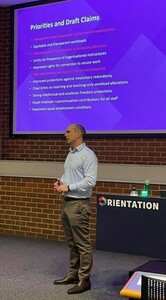 In recognition of the vital work performed by the Curtin NTEU Branch President, the University has funded 50% of the president's workload since at least 2000. This was done to ensure that the NTEU can work with the senior executive to build an innovative and sustainable workplace.
Outrageously, in late 2020 the senior executive has withdrawn the agreement to fund the president's workload. Leading up to a crucial bargaining round, this move has put significant pressure on the Curtin NTEU branch and will negatively impact all staff at Curtin. Curtin's senior executive claim they support fair and sustainable workloads, and yet they expect our branch president to attend lengthy and consequential meetings on top of a full workload.
Please sign this petition to demand that the University put their money where their mouth is. Sign this petition to give a clear signal to the senior executive that fair negotiations cannot happen without full participation from your union.
Why is this important?
How can the senior executive claim they want a fair and "collaborative" approach to bargaining when they have withdrawn their support of the NTEU at such a crucial time? How is it appropriate to finance management's negotiating team with University funds, while cutting support from the NTEU during bargaining?