To:

Premier Daniel Andrews
Solar hot water for public housing!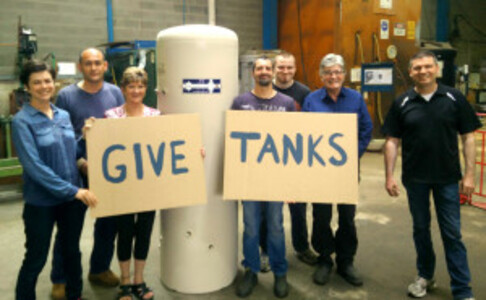 We congratulate the Premier on the government's commitment to make a real difference on climate change, on decent, secure jobs, and on social justice.
One way the Premier could contribute to reaching all of these goals is by making the stock of public housing more energy efficient and environmentally sustainable, by installing solar hot water systems supplied by Earthworker's Latrobe Valley based worker-cooperative factory.
This would reduce reduce energy bills for low-income households, reduce Victoria's pollution, upgrade public building stock, and provide work and jobs for Victorian manufacturing workers. It would also encourage the development of a diverse economy that supports the employee-owned co-operative model.
With the looming closure of Hazelwood Power Station, the need for sustainable and dignified community-based employment opportunities in the Latrobe Valley has never been greater.
We call on the Victorian Government to initiate the installation of locally-manufactured solar hot water systems in Victoria's public housing stock in partnership with the Earthworker Cooperative.
Why is this important?
Support a #justtransition for the Latrobe Valley
The Latrobe Valley community has powered Victoria for almost 100 years, and deserves to be supported through the inevitable transition of our energy system. This means new employment opportunities as the inevitable closure of Hazelwood Power Station looms closer.
Help avert a manufacturing crisis #supportmanufacturing
At the same time, Victoria is facing a manufacturing jobs crisis, especially as the car industry closes over the next two years.
Make sure no-one is left behind in the #energytransition
It should not just be the rich who are able to benefit from energy efficiency and clean energy technology. #equality. Households who can benefit the most from lower energy bills should be supported to access these options.
Reduce greenhouse gas emissions #climatechange
The need to reduce greenhouse gas emissions and transform our economy so that it is sustainable is growing more pressing every day. The State Government's own operations make a significant contribution to carbon pollution, and the government can lead by example in reducing emissions from its own buildings. This would also have a long-term benefit for tenants of public housing, whose energy bills would be reduced, giving a tangible boost to their disposable income.
Encourage the cooperative economy and more secure work #securework
Earthworker is a community initiative established by unionists and environmental activists to help Victorians work their way out of the climate crisis. It is committed to providing decent, secure work in factories owned by workers to manufacture the renewable energy technologies that we so badly need to transform our future. More information can be found at: http://earthworkercooperative.com.au/
In the UK, the Labour Party is pushing for the right for workers to buy out enterprises, and States in the US are legislating to support worker co-ops. The worker cooperative model can be the basis of new jobs and a just transition in places like the Latrobe Valley and Geelong, where old energy-intensive industries are under threat.
Earthworker already has all the required factory machinery in a factory site in Morwell, Latrobe Valley. The project has the intellectual property, experience and skills in manufacturing and installing solar hot water systems across Australia, and is in the process of setting up the Morwell factory. With a sizable order of solar hot water systems for public housing, this first cooperative factory could be up and running quickly, with this kick-start, building itself into a long-term and community-sustaining cooperative business – the first of many across Australia.
The Victorian government's commitment to reducing greenhouse gas emissions, ensuring local content in Government Projects, and growing employment opportunities in renewable technologies can be achieved in partnerships with organisations like Earthworker