To:

Flinders University
6 Ways FUSA is Calling on Flinders University to Provide Greater Support and Certainty for Students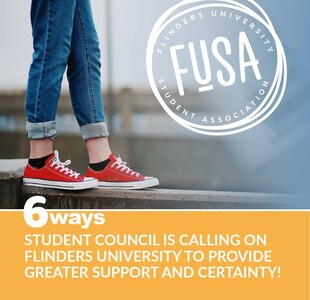 The Flinders University Student Association is working hard to represent the needs of all Flinders University Students during this unprecedented and rapidly changing time.
Student Council, the governing body of FUSA, calls on Flinders University to provide more support and certainty for students in the following six ways...
1. Allow remission of fees for Semester topics for students who need to withdraw after census date due to unforeseen impacts caused by the Global COVID-19 (Coronavirus) pandemic.
2. Allow any student to opt-in to being graded on a non-graded pass assessment structure for Semester 1 topics.
3. Extend all census dates back at least one month.
4. Extend all 'last day to withdraw without failure' dates to the beginning of SWOTVAC.
5. A written agreement for no reduction in student advocacy and welfare services.
6. Flinders University Student Association must be meaningfully consulted on all Flinders University changes that impact students.
Why is this important?
This is why student unionism is so so important.
FUSA Student President Josh has been one of the few lucky student representatives across the country to get a seat at the table during my University's planning and response discussions for Covid-19. We've had some wins but unfortunately my University just isn't doing enough to support students during these unprecedented times.
Students right across the country are losing their jobs, being evicted from their homes, or rely on family support that is no longer available.
We need to do more, and we can