To:

The Victorian Government
We Need Safe Apprenticeships
Win! Daniel Andrews has announced that a re-elected Andrews Labor Government will establish an Apprentice Taskforce. The Taskfoce will improve regulation, simplify complaint reporting, and establish bans on employers who have mistreated apprentices.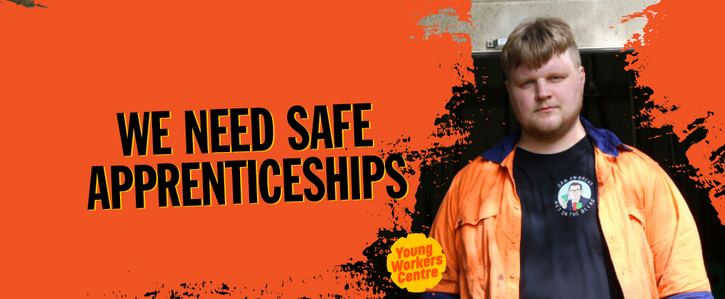 All apprentices deserve safety, respect and training at work - but right now, the system is broken. Many apprentices - hairdressers, chefs, construction workers and electricians - experience bullying, wage theft, unsafe working conditions and poor training, and bosses are getting away with it.
Right now it's easier to hire an apprentice than to hire a car – and these are young lives and futures at stake. There's currently no adequate vetting system in place for bosses and employers are rarely supervised or checked up on. That means that so many unscrupulous bosses are allowed to continually mistreat and churn through apprentices like butter.
That's why we're calling on the Victorian government to regulate our apprenticeship system to stop cowboy operators who are putting apprentices at risk, and recognise good employers who are doing the right thing.
Why is this important?
A good apprenticeship provides all the tools you need to get started in a trade, setting you on the path to a rewarding career.
But these days, some apprenticeships can be like the Wild West, with cowboy operators not properly training us, leaving us unsupervised, stealing our wages or - worst of all - putting our lives at risk by forcing us to do unsafe work.
I went through a lot of this during my apprenticeship.
I was excited to start my Boilermaker apprenticeship. I said to everyone; I want to fabricate things, forge things and it's going to be really cool.
But during my apprenticeship I'd be working inside these barrels, no ventilation, no extraction fans, nothing. I'd have a p95 mask and I'd be in there for four hours, but within an hour the thing would be black and you couldn't breathe through it. I'd ask the boss for a new one and he would ask why I'd needed it.
Often there was no one supervising me and the boss wouldn't release me and the other apprentices so we could go to Tafe.
Unfortunately, my story isn't unique. It's become so bad that only half of Victorian apprentices ever finish their training. This has to stop.
I'm joining forces with other apprentices and young workers to campaign for change. Sign our petition to call on the Victorian Government to fix the apprenticeship system and protect all apprentices from abuse and exploitation.