To:

Vice-Chancellor Margaret Gardner
Monash employees need a 4% administrative pay rise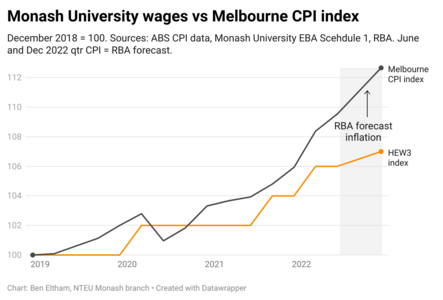 Vice-Chancellor Margaret Gardner, your staff need a pay rise.
Monash's Enterprise Agreement expired on June 30. Monash staff get a 1% pay rise on July 14: the only pay rise we'll get this year.
One per cent is not enough.
Professor Gardner, you can give staff a decent pay rise. You can implement a so-called "administrative" pay rise, giving Monash staff relief from rising inflation. You did this in 2018.
With CPI running at 5%, Monash staff need a wage rise of at least 4% (in addition to the 1% this July) to keep our wages from falling in real terms.
Professor Gardner, give staff a 4% 'administrative' pay rise. We need it.
Why is this important?
Australia has a cost-of-living crisis. CPI is rising at 5% per annum, and Reserve Bank Governor Philip Lowe says inflation could reach 7% by the end of 2022.
Staff need a pay rise to keep up with rising food and petrol prices, rising interest rates, and rising rents. Melbourne faces an acute rental crisis. Some staff are having their rents hiked $50 or $100 a week.
Monash staff moved mountains to keep the University operating through the pandemic -- voting for a pay freze in 2020-21 to help the University through. While the Vice-Chancellor takes home $1.3m a year, many Monash workers are low-income casual teachers, librarians, and adminstrative and laboratory staff.
Now we need the University to do its bit.
Monash University can afford a pay rise. Monash made a $416 million operating surplus in 2021. There is more than $800 million cash in the bank. Since 2019, the University has tallied $1 billion in supluses.
Normally, staff would negotiate a pay rise through enterprise bargaining. The NTEU has been trying to negotiate, but Monash University refuses to talk.
Monash University's Enterprise Agreement expired on June 30. Monash management have refused to open pay negotiations, despite repeated requests from the NTEU for months. Every fortnight that Monash refuses to negotiate is a fortnight where real wages go backwards.
It's time for Margaret Gardner to step in, and give Monash University staff some cost of living relief.
How it will be delivered