To:

Kingston Council
Save Don Tatnell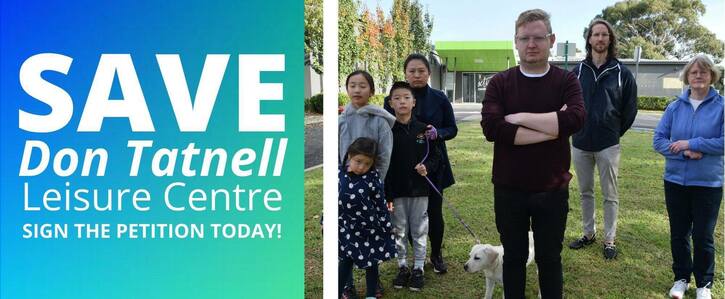 The petitioners request the City of Kingston to redevelop on the current site that includes a pool, hydrotherapy pool, gym, and Multipurpose Ball Court facilities for our local clubs.
We also call on the redeveloped facility to include a new home for SCOPE, which provides disability support services to the local community.
Sign the petition today and help make Kingston Council commit to saving our local pool!
Why is this important?
The petition of certain citizens of the City of Kingston draws to the attention of the Kingston Council that:
1. Don Tatnell Leisure Centre was closed on the 30th of January 2020 due to serious structural issues that made the centre unsafe for use.
2. This facility was used by many of members in the Parkdale, Mordialloc and Mentone community -offering pool, spa and sauna facilities, as well as a gym with local classes and other support services.
3. Don Tatnell is walking distance from Parkdale Secondary College and St John Vianney's Primary School, and accessible to many other local primary and secondary schools in the Mordialloc-Parkdale area.
4. The centre is readily available to our local community via bus from Mordialloc Station.
5. Since its closure, Kingston Council has not committed funding to a redevelopment on its current site and has instead flagged a possible relocation. This would be a huge loss to our local community.
6. The Mayor of Kingston has stated that costs to return the ageing building to a "useable state, without any improvements in service" would incur $9 million in costs and a 10-month closure. Instead, the Mayor says the Council "will focus on developing a new, modern centre that meets the current and future needs of our community."