To:

Tasmanian Government
Support Tassie's TAFE - stop privatisation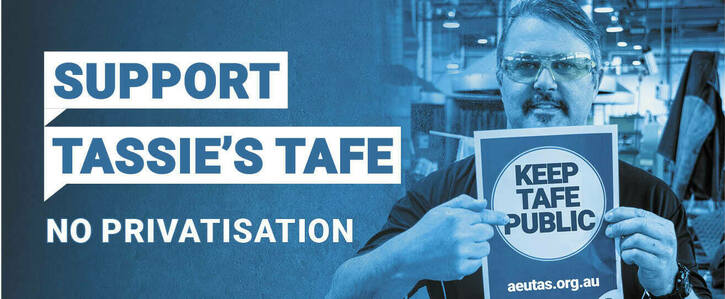 Tasmania's public TAFE delivers high quality training and education with the highest student satisfaction rates and top apprentice completion rates nationally.
Our TAFE needs more government investment, not the Liberal Party's privatisation plan that will shift costs to students and employers, delay economic recovery and diminish training and education.
Similar TAFE privatisation plans in South Australia resulted in the closure of multiple regional campuses and large job losses.
We demand the Tasmanian Liberal Government withdraw their TasTAFE privatisation plan and sit down with hardworking TasTAFE teachers and support staff to hear how we can rebuild Tasmania's economy with TAFE training and education leading the way.
Why is this important?
I am a TasTAFE teacher who works closely with local industry to deliver the training and education they need in a workforce.
For years I've pushed TasTAFE management to deliver the courses demanded by students and employers and I've sat down with government to discuss how TasTAFE can provide flexible training options.
Deliberate underfunding from governments has already resulted in TAFE courses being cut and smaller regional communities and businesses losing quality training options.
TasTAFE teachers and support staff understand the needs of their industries and students. We know how important we are to Tasmania's economic recovery.
Instead of working together to ensure Tasmanians have the training and skills for our COVID-19 recovery, the Tasmanian Liberal Government has declared war on TAFE teachers and support staff with an ideological privatisation plan that will only delay economic recovery.
Let's rebuild with TAFE together and stop the Liberal Party's disastrous privatisation plan.